Ed Miliband: Treasury and Harvard gave me 'life experience'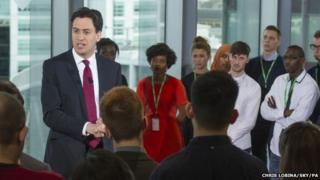 Ed Miliband has cited being a Treasury adviser and lecturer at Harvard as examples of "life experience" that he feels qualify him to be prime minister.
The Labour leader was pressed over his experience outside of politics during an Ask The Leaders session organised by Sky News and Facebook.
Mr Miliband was an economic adviser to Gordon Brown from 1997 to 2002, before teaching economics at Harvard.
He returned to the Treasury until 2005, when he was elected to Parliament.
Taking part in the question and answer session on Monday, Mr Miliband said he was in politics because "it makes a difference to our country".
'Listen and engage'
He was asked by one audience member what life experience he had outside of politics "to indicate you should be the one to represent the people of Britain?"
The Labour leader replied by saying he had done "a number of things" which he felt were relevant.
"I was obviously an economic adviser in the Treasury... I think that's important because the economy and how we change our economy is at the heart of the country," he said.
"I taught at Harvard University. I actually taught around government and economics and I think that, actually, one of the things that that did for me (was learning) to listen and engage with people about what their issues are, what they're interested in."
Before entering the Treasury as an adviser in 1997, Mr Miliband, who studied Philosophy, Politics and Economics at Oxford University, worked briefly as a researcher in the media, and then became a Labour Party researcher.
He was elected to Parliament in 2005 as the MP for Doncaster North and in 2010 narrowly defeated his brother, David Miliband, to become Labour Party leader.
After graduating from Oxford, David Cameron worked as a Conservative Party researcher before becoming an adviser to former chancellor Norman Lamont and former home secretary Michael Howard.
He then worked in communications for the television company Carlton before becoming an MP in 2001.