No 10 rejects 'bit player' claim over Ukraine crisis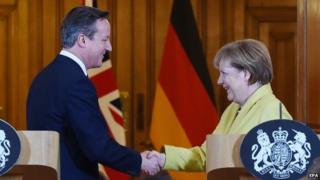 Downing Street has rejected claims by a former senior army officer that the UK has become "irrelevant" in attempts to resolve the conflict in Ukraine.
Sir Richard Shirreff, until last year a top Nato commander in Europe, suggested the UK was a "bit player" in Europe's "most serious crisis" for 50 years.
Labour said the comments were a "serious indictment" of the government.
But No 10 said the UK had led calls for sanctions against Russia, helping push Moscow to the negotiating table.
French President Francois Hollande and German Chancellor Angela Merkel are in Moscow for talks with Russia's President Vladimir Putin to try to end escalating fighting in east Ukraine.
They held separate talks in the Ukrainian capital Kiev on Thursday, as part of a fresh diplomatic initiative to end the conflict.
'Absent'
Sir Richard - who stepped down as deputy Nato commander in Europe last year - has said the UK should be taking a more active role in diplomatic efforts.
"Where is Britain?" he was reported as saying by The Times. "Where is Cameron?
"He is clearly a bit player. Nobody is taking any notice of him. He is now a foreign policy irrelevance."
Sanctions
Sir Richard told BBC Radio 4's Today: "The UK is a major Nato member, it's a major EU member, it's a member of the UN Security Council, it's a G8 member.
"It is unfortunate that I think that the weight that the British prime minister could bring to efforts to resolve this crisis appear to be absent."
But No 10 said the UK had been at the forefront of efforts to hold Russia accountable for its annexation of Crimea and its continued support for pro-Russian separatists in Ukraine, backing which Moscow has always denied giving.
Downing Street said financial sanctions against key figures in the Kremlin and wider trade sanctions had brought economic pressure to bear on Russia and led President Putin to agree to talks with his French and German counterparts.
It said the format for Friday's negotiations was agreed back in June, at an international event to mark the 70th anniversary of the D-Day landings in Normandy, when President Putin helds talks with his Ukrainian counterpart Petro Poroshenko.
'Going Awol'
Amid speculation in Washington that the US is considering arming Ukrainian forces, the BBC's political correspondent Iain Watson said No 10 sources were insisting that this was not official US policy although the Ukraine must be able to protect its sovereignty.
Asked if the UK would change its stance if the US did move to arm Ukrainian forces, the source said: "We will form our own view.
"We are not waiting to see what the Americans do."
Speaking in Munich, where he is attending a security conference, Defence Secretary Michael Fallon has reportedly said arming Ukrainian troops would escalate the conflict.
While backing efforts to bring an end to the fighting, Reuters said Mr Fallon had insisted that territory taken by pro-Russian separatists since September, when a short-lived ceasefire was agreed in Minsk, must not be recognised in any new agreement.
Labour said Sir Richard Shirreff's comments were telling and accused the prime minister of "going AWOL" at a time of real danger in Europe.
"I think it is disappointing that David Cameron seems so disengaged," said opposition leader Ed Miliband.
"I think we do need a British government that is engaged in the problems of the world. I think it is a pretty damning indictment of his foreign policy that he seems pretty distant and pretty irrelevant."