Miliband stance not anti-business, says Lord Mandelson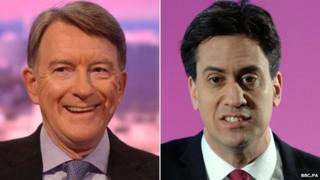 Labour leader Ed Miliband is not anti-business and firms will become "more reassured" about his stance by the election, Lord Mandelson has said.
The former Labour business secretary said Mr Miliband had his support and "will make a very good prime minister" who backed "business responsibility".
Lord Mandelson's backing comes after several business leaders expressed concerns over a Labour victory.
The Conservatives said Mr Miliband "is simply not up to the job".
Lord Mandelson, one of the key figures in Tony Blair's New Labour project, told BBC Radio 4's Today programme, the current party leader was "very clearly demonstrating a commitment that is both pro-business and pro-social justice".
He was speaking after Mr Miliband told the leaders of UK overseas territories that under a Labour government their countries would be put on an international blacklist and face sanctions if they refuse to co-operate with a drive against tax avoidance and compile a public register of offshore companies.
A number of senior figures in British business including the boss of Boots and the Carphone Warehouse co-founder Sir Charles Dunstone, have also this week voiced fears of the implications of Labour general election victory.
But Lord Mandelson said: "We've got two months to show that he can make the case.
'Complete rubbish'
"People are going out of their way to pick up on every single stray word, to take out of context and to portray him as basically anti-business... he is for good business practice, he is in favour of business responsibility...
"As he sets this out, increasingly, I honestly think that business will become much more reassured."
Lord Mandelson said the letter to to Anguilla, Bermuda, the British Virgin Islands, the Cayman Islands, the Turks and Caicos Islands, Gibraltar, Montserrat, Jersey, Guernsey and the Isle of Man was "very clearly demonstrating a commitment that is both pro-business and pro-social justice".
Labour argues the overseas territories and crown dependencies could help to stop or stem tax avoidance by showing tax authorities who is diverting money into companies there.
At the G8 summit in June 2013 the prime minister announced the islands and outposts agreed to sign up to the Multilateral Convention on Mutual Assistance in Tax Matters - an initiative led by the OECD - although none so far have followed the UK's lead in creating their own public central register of offshore companies.
In a speech to a Labour conference in Nottingham, Mr Miliband said: "Over 18 months ago David Cameron promised to shine a light on tax havens linked to the UK. But the light hasn't come on. Their affairs are still shrouded in darkness.
"Britain is losing billions of pounds in lost revenue that could be invested in our future."
---
Analysis
By Chris Mason, political correspondent, BBC News
The premise of Labour's case is to plant an idea in our minds that there's a pot of silver going for the UK Treasury, if only the coalition tried harder. Labour cite research suggesting nearly £5bn a year is lost to the UK Exchequer from tax evasion in offshore financial centres.
It's a lot of money - if it's an accurate estimate - and money they are keen on. But getting to it is unlikely to be easy or quick.
First, the British Crown Dependencies and Overseas Territories are independent: the UK can't force them to do anything regarding taxation or financial regulation. There is a huge difference between tax evasion, which is illegal and tax avoidance, which is not.
"Blacklisting" is decided by international agreement, the UK can't demand it. We'll be starting an important international conversation and we'll drive through change, Labour says.
A senior government source on one of the islands concerned told me they'd had private meetings with Labour. Senior party figures, the source said, had struck a much more emollient tone then - and dismissed this as the public shouting of an election campaign.
---
Lord Mandelson dismissed as "complete rubbish" suggestions in a Financial Times article that he was involved in a plot to unseat Mr Miliband.
The paper claimed he contacted Alan Johnson last November "to take soundings" to see if his former cabinet colleague could mount a leadership challenge.
Lord Mandelson said: "As a rather good friend of Alan Johnson it would be rather strange if I didn't phone him and find out what all this hype was about.
"I think I probably teased him a bit and suggested it was the publicity agent ... whipping all this media interest to boost sales in his book."
He added: "I strongly support Ed Miliband's leadership and ... I want to see him as prime minister of this country."
Meanwhile, referring to Mr Miliband's letter to UK overseas territories, Conservative Treasury minister David Gauke said the "big idea has collapsed in chaos within hours of its announcement. He doesn't appear to understand that the UK is the only country in the OECD committed to a public central register...
"He wants the OECD to blacklist countries if they don't do the same as us. But that would mean blacklisting every single country in the OECD apart from the UK. Once again, it's clear that Ed Miliband is simply not up to the job."