Met Police anti-terror plans 'changed' after Paris attack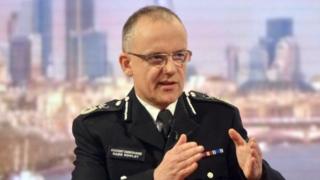 Emergency plans to cope with a terror attack in the UK are being altered in the wake of the Paris shootings, the Met's chief anti-terror officer says.
Assistant Commissioner Mark Rowley said the events in Paris were "not everything we anticipated".
Speaking on the Andrew Marr Show he said "some refinements" were needed to improve anti-terror policing.
The government has granted an additional £130 million anti-terror funding over the next two years.
Mr Rowley, who is the national policing lead for counter-terrorism, said IS is unlike any threat Britain has faced before in its bid to recruit and radicalise people.
'Misfits and criminals'
"We are dealing with people who are trying to create what you might call a corrupt cult of followers who will act in their name.
"They are trying to attract misfits, criminals and the vulnerable and it is those people, not part of a bigger organisation that might act of their own volition."
Around 600 people are thought to have travelled to Syria and Iraq from the UK since the conflict began and are of "a high degree of concern" to the police. Around half of those people have since returned home.
Mr Rowley said the Paris shootings had led them to reassess their plans
"In terms of our national firearms capability, we've asked is it strong enough? How's it placed? How's it organised?," he said.
"We've arranged to be able to deal with those sorts of events and we have some well-tested exercises and command and control regimes for working across the country on counter-terrorism. But you look at an event like Paris and you think not everything in that we anticipated, so we're going to have to make some refinements to our plans to improve."
He said there were now 35% more arrests linked to counter-terrorism than ever before - nearly one a day.
When asked whether the police had enough resources to deal with terrorism, Mr Rowley said: "We have been making some changes to get more resources into some of our areas we need to strengthen, around cyber and around digital and we're also in conversation with government about how we can grow over the next year."
The government's terrorism threat level is currently set at "severe" meaning an attack on the UK is already highly likely.