UKIP's stance on NHS funding 'far from settled'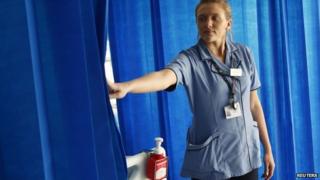 Senior figures in UKIP think radical reform of the NHS is needed and internal disagreements about the idea are likely to resurface after the general election.
I understand that one senior official very closely involved in writing the party's general election manifesto believes the current system "can't go on".
But they acknowledge that controversial plans to introduce private insurance were rejected - outright - by others at the top of the party.
Nigel Farage had proposed alternative funding for the NHS but the party leader has recently conceded that he has lost the argument within UKIP.
One person central to the party's manifesto says there is "no way that other options like private insurance" will appear in the document.
The party is now committed to a health service free at the point of delivery, based on need, and to an extra £3bn annual spending on the NHS if it was in government.
But two senior figures have significantly contrasting views about the extent to which UKIP should revisit the subject of fundamental reform.
The senior MEP and a prominent party official, who is close to Nigel Farage, both believe that the current way of funding the NHS is not sustainable.
Although it is contentious they also think there is something to be gained from talking openly about such radical reform.
Internal debate
They believe it shows UKIP is not afraid of addressing issues which they think the other main Westminster parties are afraid of.
Health policy has been a problem for Nigel Farage over the last few months. He was forced to concede that he had lost that internal debate about a private insurance model.
Then, in what appeared like an attempt to shore up his party's position, he announced he was pledging to spend more on the NHS than the Conservatives.
It was only several weeks before that - and before he was removed from the job of policy chief - that the BBC understands Tim Aker MEP had told people the NHS would not be ring fenced in UKIP's spending plans.
As things stand, the party is also committed to reducing the number of NHS managers and trying to end PFI deals that were used to build new hospitals.
UKIP's newest MP Mark Reckless told the BBC he doesn't support any move away from the current system: "I say to people we already have a social insurance system and that is national insurance."
He does not believe Nigel Farage or others should seek to resurrect the idea of a private insurance model once the general election has passed.
Challenge to Labour
That stance is not just about principle, it's also about politics. Many in UKIP, including I understand Deputy Leader Paul Nuttall, believe that campaigning on the NHS - without the radical reform - is a key part of trying to appeal to less traditional supporters.
The party believes it can challenge Labour in some parts of the north, where Ed Miliband's party is strongest.
A key part of opponents' attacks on UKIP is to claim that Nigel Farage wants to privatise the health service, something he says is a "lie".
A UKIP spokeswoman told the BBC there was "not even the slightest chance" that the idea of backing a form of private insurance in the NHS would resurface.
The party, though, is considering whether to pledge support for a pay rise for emergency doctors.
The process of compiling - and costing - everything in its general election manifesto is still yet to be completed.
It is clear UKIP will look to specific "retail" policy ideas as the election campaign approaches, partly in the hope that disagreement over more fundamental issues has been settled, for now.