CWU trade union asked to fund Green candidate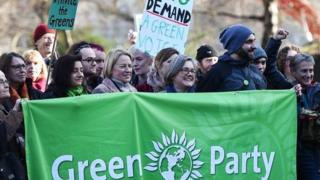 The Labour-supporting CWU union has been asked to fund a Green Party candidate standing against a shadow minister.
Any support for a politician opposing Labour would threaten the union's historical link to the party.
Documents seen by the BBC show a long standing CWU officer is calling on his union to provide the money from its political fund.
He intends to push his demand to a vote at a meeting next month.
In the application Jan Zablocki says he wants to offer members a political choice "free from the straitjacket of any single political party".
He said: "If as a consequence of that the Labour party says 'we no longer want you', so be it."
Zablocki is the Green Party's prospective candidate for the Stoke Central seat where the shadow education secretary Tristram Hunt is the MP.
'Not socialist enough'
A CWU branch meeting in February had already considered the request, Zablocki said.
A spokesman for the CWU - which represents postal and telecom workers - said: "When you affiliate to Labour you forgo affiliating to everyone else.
"One branch can't change that decision. It would have to go to national conference of the union."
Affiliation means the CWU provides Labour with fees, and gets a say in party decision making.
A number of trade union activists are seeking election for the Greens.
Former Labour member Charlie Kiss, a shop steward with Unison - also affiliated to Labour - is standing as the Green Party's candidate in Islington South.
The President of rail union the RMT, Peter Pinkney, is the Green Party candidate in Redcar.
A former Communist, he said: "I thought the Green Party were left wing or socialist enough to interest me."
The Green Party said the RMT had given over £7,000 to the their single MP Caroline Lucas.
The RMT split from Labour in 2004 after it insisted on continuing to support the Scottish Socialist Party.