Election 2015: Testing opinion in two UKIP targets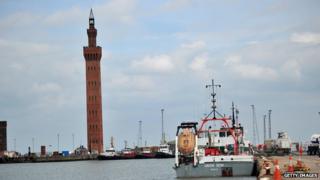 It's a reflection of how UKIP's appeal has evolved and broadened in recent months that in north Lincolnshire the party hopes in May's general election - to win two constituencies: one, Great Grimsby, from Labour, the other, Cleethorpes, from the Conservatives.
It's always grim in Grimsby, but today it's particularly grim, says the taxi driver, his windscreen wipers going under a dark grey sky.
It's not just one man's opinion. A few months ago the local paper asked its readers, Do you think Grimsby is great? Three out of five replied "No".
On Freeman Street you can see why they might feel that. Shop after shop is shuttered, metal screens bolted on over the windows.
The area is one of the worst for incomes, crime, health, economic activity. Many feel disadvantaged. It's affecting their politics.
At Freeman Street market,­ in amongst the fruit and veg, ­UKIP's purple signs cover a stall the party has leased.
'Lost touch'
The traders and customers in this part of town provide rich pickings for the party.
Many are profoundly discontent with politics. "All the parties are the same," "they don't speak for me," are common refrains.
If you want to understand why some will vote UKIP, go to Joe Clarke's home-wares stall.
A lifelong Labour voter until the last election, as far as he's concerned Labour and the Conservatives have "lost touch with the real world".
"(UKIP's) Farage still seems to be in touch with people like myself. He knows there's massive concern about immigrants."
Then comes a list of concerns common to many UKIP voters.
"The National Health Service is creaking at its foundations, and part of the problem is because of all the immigration."
"I'm not saying keep all the black guys out. But it's ruining the fabric of our society.
"The European Union want everybody to move about workwise.
What they don't get is we're a small island, and we're just awash with people from other countries who've never contributed a single penny, taking everything."
'Left behind'
North East Lincolnshire, which covers the constituencies of Grimsby and Cleethorpes, has few immigrants. The 2011 census showed 95.4% of people here describe themselves as "White British".
Still, UKIP's national message about immigration resonates here because so many people feel "left behind".
It's why Labour risks losing in seats like Grimsby,­ which it has held since 1945. A respected poll taken late last year suggests UKIP and Labour are neck and neck, the Conservatives a distant third.
It's also why Labour has had to move to the right on immigration.
Down at Grimsby docks the ice to keep the morning's catch fresh is being shovelled. Labour's candidate for Grimsby Melanie Onn - who works for trade union Unison - has been chatting to the workers here since dawn.
Afterwards, in an interview, she rolls her eyes when she's asked about immigration. She'd rather focus on the minimum wage, or zero hours contracts.
The party now realises there "needs to be a sensible conversation on immigration where it hadn't been comfortable in doing so in the past," she says.
'Terrified'
She claims it's a "proportionate response to people's concerns".
Only because UKIP first recognised those concerns?
"We're not formulating policy in response to anything. What we're doing is taking the issues that members are raising and formulating a positive policy in relation to immigration."
Her main opponent sees it differently.
"They are terrified of us," claims UKIP's Victoria Ayling.
At the last election Mrs Ayling almost beat Grimsby's Labour MP ­Austin Mitchell, who is stepping down ­ when she ran as a Conservative.
Since then she's defected to UKIP, reflecting she says her public disdain for David Cameron.
Mrs Ayling knows she stands a good chance. At the 2014 local elections UKIP increased its number of councillors on North East Lincolnshire Council to eight.
'Massive difference'
How should voters distinguish her from the Conservatives though? Her views on leaving the EU, on immigration barely differ from those of Tory Eurosceptics.
"Oh gosh, there's a massive difference," she says.
"A lot of these Eurosceptic Tories if they were genuine would join UKIP."
"They're only talking like that to win votes, scrub around for votes."
UKIP ­ she says, would deliver.
That worries some here.
Just down the coast, and across the constituency boundary in neighbouring Cleethorpes, some of the region's business leaders are gathering in a multiplex cinema.
A scent of popcorn hangs over them as they settle into cushioned seats for a question and answer session featuring some of the election candidates for the area.
The questions vary: How would they tackle the empty shops on the high street? What would they do to improve local workforce skills?
Would the area be better if the UK left the EU?
The chairman asks for a show of hands. Who wants the UK to stay in the EU? The vast majority.
Renewable energy
Few here are willing to say who they will vote for, but it's clear people like Simon Dwyer, a local business owner in the ports and logistics sector, will not be voting for UKIP:
"This area needs to have an open mind towards people coming in from abroad to keep its economic status," he argues.
"We need skills," he says, pointing out that most Brits are not attracted to working in the area. Skilled workers from abroad are needed he believes.
Some worry that if UKIP were to win, it could harm the area's ability to attract inward investment.
North East Lincolnshire has been reinventing itself as a centre for the wind power and renewables industry.
The biggest round of applause of the evening goes to a Green candidate, when she rounds on UKIP for arguing that investing in the renewable energy sector is not going to put the area on a sustainable economic footing.
Steve Johnson, who runs a job centre, believes questioning Britain's membership of the EU "may have an impact on how far some of the investment plans are developed" here.
Sea breeze
It's not just UKIP raising questions about the EU. The MP for Cleethorpes, Conservative Martin Vickers, was once considered a possible defector to UKIP, because of his firmly Eurosceptic views. He insists he never did or will consider defecting.
But is there any difference between him and UKIP?
"I would like to think of myself as a serious politician who supports a party of government."
So he's no different, only his party?
"Many of the sentiments that people who support UKIP tell me I can go along with that, but UKIP can't deliver them."
The sea breeze gusts down old town streets, a child laughs in the sun. Grimsby is not all depressed.
Many do believe growth and jobs are coming in the form of wind power. Tourism to Cleethorpes is strong in the summer months.
UKIP's support here has grown ­ but it's not guaranteed to translate into a Westminster seat.
Many of those who feel forgotten by "politics as usual" will support the party.
But there are plenty of others who sense renewal in the fresh sea air ­and are concerned that a UKIP victory could undermine it.