What a difference a day makes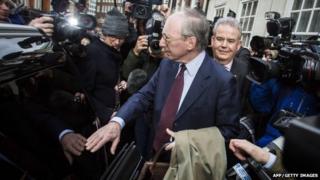 What a difference a day makes. In just 24 hours, Sir Malcolm Rifkind went from angry defiance to a grim-faced acceptance that he would have to quit his job - both as a member of parliament and chairman of the Intelligence and Security Committee.
So what changed in that time?
Quite simply, Downing Street withdrew its support, threatening in effect to push Sir Malcolm if he did not jump first - or in the language preferred by the Tory party they offered him a whisky and a revolver and urged him to do the honourable thing.
It is quite possible that, as he says, Sir Malcolm has not broken any parliamentary rules. But his bragging on camera to a representative of a fictitious Chinese company who turned out to be an undercover reporter - and his angry insistence that he had done nothing wrong afterwards - won him few friends in Westminster.
Tomorrow the debate may turn to a wider question - whether Britain is better off without MPs like Sir Malcolm, who claim they are entitled to earn more than £67,000 a year. Or, whether we are all worse off without men and women of experience who may opt for a quieter and, who knows, better paid life outside.