Election 2015: Nigel Farage requests police bodyguards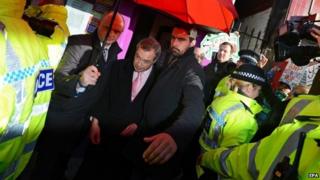 UKIP has requested police bodyguards for Nigel Farage as he prepares to tour the country for the general election campaign.
The BBC understands the party made a formal submission to the Home Office last week.
MI5 and the police will now assess whether Mr Farage needs specially trained officers to protect him, at taxpayer expense.
Protestors recently forced Mr Farage to abandon a walkabout in Rotherham.
The UKIP leader was on a campaign visit to the Yorkshire town after the local council cabinet resigned en masse over child sex abuse allegations.
He was accused of trying to make political capital out of the scandal which involved British Asian men.
Mr Farage complained that the local police could have done more to prevent the disruption.
Growing concern
Campaigning in Scotland in 2013 Mr Farage was forced to retreat to a pub in Edinburgh after a visit was over-run by dozens of protestors.
He had to wait for the police to escort him out of the building and into a waiting van.
The UKIP leader was hit by an egg in last year's European election campaign but there have been no known attempts at a more serious attack.
Mr Farage currently has a small security team from a private firm who provide personal protection, which is paid for by the party.
The contractors also monitor social media and assess any threats ahead of events.
He is known for his frequent walkabouts and close quarters campaigning. He recently said: "Unlike other party leaders I go out and often take pictures with the British public."
At the last general election in 2010, Nick Clegg - when he was just leader of the Liberal Democrats - was given police protection, as was David Cameron, who was then leader of the opposition.
Labour's Gordon Brown, as prime minister, already had a high level of security around him.
One senior figure close to Nigel Farage said he was reluctant to ask for the protection, saying that the party did not want to be seen as a drain on already scarce police resources.
Mr Farage was initially reluctant to make the request to the Home Office but there is a growing concern among some around the UKIP leader that the general election campaign could be hindered by repeated protests targeting Mr Farage.
The UKIP leader has been refused police protection in the past. Last December he revealed that the Home Office had turned down a request.
He told LBC radio that he thought he deserved the same protection as a former Northern Ireland secretary.
Hope Not Hate campaigns against UKIP, while Stand Up to UKIP - which has the backing of some senior trade unionists and several well known Labour figures - organises demonstrations at UKIP events.
Plane crash
One is planned at the party's spring conference this weekend in Margate on Kent.
Although problematic for Mr Farage the demonstrations may be considered public order issues and not likely to constitute enough of a personal threat to him to warrant expensive protection by specially trained police officers.
The most significant factor in determining whether he is treated like the leaders of the other three Westminster based national parties, once the official election campaign begins, could be if there is any known serious threat to him or any terror threat.
A Scotland Yard spokeswoman told the BBC that it never comments on security procedures.
Mr Farage escaped serious injury during the 2010 campaign when he was involved in a serious plane crash on Election Day.
He walked away from the wreckage after the accident involving a light aircraft which came down in a field, but he's suffered serious back problems since.