Osborne criticised by Speaker over constituency visit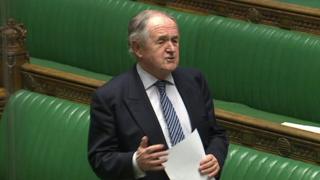 Commons Speaker John Bercow has criticised George Osborne for giving an MP only a few hours' notice of his intention to visit his constituency.
By tradition, ministers visiting another MP's constituency are expected to tell them of their plans in advance.
Lib Dem MP Sir Alan Beith said he had been informed of the chancellor's visit to his Berwick-upon-Tweed constituency at 21:17 GMT the evening before.
Mr Bercow said MPs should "observe the spirit and letter of the convention".
Sir Alan, who is retiring in May after more than 30 years in the Commons, raised the issue in a point of order during Monday's proceedings.
He asked Mr Bercow whether he should have been given more prior warning by Mr Osborne's office, saying the manner in which he received notification, by email, "seems to stretch the concept of courtesy rather a long way".
"I wonder whether we could introduce some sort of training course or refresher course we could send ministers and their advisers on so they had a full understanding of what these courtesies are," he added.
In response, Mr Bercow said this would be "beneficial". He added: "I have to say that people should observe the spirit, not just the letter of the convention.
"Many people would feel that for the right honourable gentleman to be notified at such a late stage is a discourtesy, and I leave colleagues to consider whether that is worthy of someone who occupies any ministerial office, notably in this case the occupant of the office of chancellor of exchequer."