Labour proposes online voting trial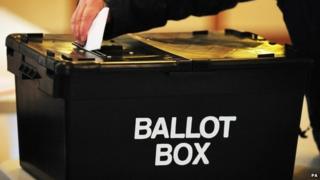 The Labour Party says it would trial online voting if it wins the general election.
The proposal is among a number of political reform measures to be outlined by the party to reverse what it calls "the democratic decline".
It will also consider new powers for the Speaker to send MPs to a "sin bin" if they are too rowdy during debates.
This idea was described as "rubbish" by Conservative MP and former Deputy Speaker Nigel Evans.
Mr Evans told the BBC's Daily Politics the Commons Speaker already had power to eject MPs in certain circumstances, as well as to admonish them for their behaviour.
But current Speaker John Bercow, speaking at an event in Westminster on Monday night, said the idea had "merit", calling some MPs' behaviour during Prime Minister's Questions "embarrassing".
Mr Bercow has also previously backed the idea of optional online voting in the 2020 general election.
Labour said it would "trial online voting to see if we can do it safely and cost effectively" in an attempt to improve turnout.
Other measures to be set out by Labour's shadow leader of the Commons Angela Eagle include previously-announced proposals to allow 16 and 17-year-olds to vote, a ban on paid directorships and consultancies and replacing the House of Lords with a "Senate of the Regions"
She said: "When trust in politics and politicians is already at a record low, only radical reform will restore faith in our political process."