MPs face ban on taxi and dinner expenses, watchdog Ipsa says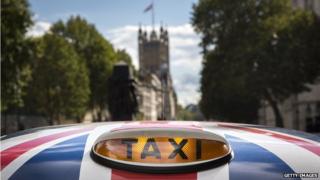 MPs will be banned from claiming expenses for dinners, TV licences and pre-23:00 taxis after May's election, the expenses watchdog has said.
The Independent Parliamentary Standards Authority (Ipsa) proposed the curbs in 2013 as part of a wider package that included salaries rising from £67,000 to £74,000.
The salary rise is still subject to review from the party leaders.
But Ipsa said the cuts to expenses would go ahead on 8 May anyway.
The move emerged as Ipsa announced expenses rules for the next parliament.
Staffing budgets are to go up 1% to £147,000 for London area MPs, and £140,000 for those from outside the capital.
The budget for office costs is also increasing, by 0.5%, to reflect inflation, but accommodation budgets have been frozen.
An Ipsa spokesman said: "We will implement the rule changes agreed in December 2013, including removing hospitality claims and the late sitting food subsidy.
"We have tightened the rules on taxis and hotels after late sittings of the House.
"We will no longer allow claims, under the accommodation rules, for TV licences and home contents insurance. "