In quotes: Reaction to David Cameron's TV debates ultimatum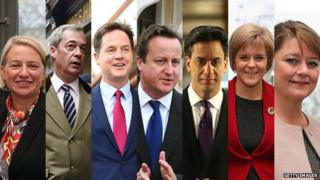 Prime Minister David Cameron's announcement that he will only take part in one televised debate before the general election, featuring at least seven party leaders, has triggered a furious debate all of its own.
Here is what the key players have been saying.
---
David Cameron, prime minister
"Ed Miliband and I debate every week in the House of Commons and we will go on doing that right up to the election campaign, but we are now short of time because of the mess, frankly, the broadcasters have made of this.
"I am unblocking the log jam and saying let's have this seven-cornered debate and get on with it before the campaign.
"Then we can actually do what needs to be done, which is to get round the country during the election campaign."
---
Ed Miliband, Labour leader
"It is now clear that David Cameron is ducking the debate with me. He is cowering from the public.
"The British people deserve this debate. I'll debate him any time, any place, anywhere.
"He should stop ducking and weaving and name the date."
---
Nick Clegg, Liberal Democrat leader
"I am bemused by the lofty pomposity of the Conservatives that they say they will deign to participate in one debate.
"They're behaving as if they're ordering a drink in the drawing room of Downton Abbey. It's not for the Conservatives to start telling people how these debates are going to happen, they belong to the British people."
---
Nicola Sturgeon, SNP leader
"I will debate (David Cameron) anytime, anywhere, on any number of occasions.
"However we have accepted the broadcasters' proposals, and believe we should stick with that, rather than allow a Tory prime minister to dictate the terms of debate."
---
Nigel Farage, UKIP leader
"I suspect, had it been a four-headed debate, there are one or two conversations I wanted to have with the prime minister that I don't think he would have been able to answer.
"I suspect that's why they have sabotaged it."
---
A Green Party spokesman
"People want to see a set of debates between all major party leaders, yet the prime minister is clearly scared of scrutiny.
"Our leader Natalie Bennett is very much looking forward to debating with the other party leaders. David Cameron must not be allowed to scupper these plans."
---
Leanne Wood, Plaid Cymru leader
"The prime minister's efforts to manipulate the broadcasters are unacceptable and arrogant and it would seem that he is running scared of his record being open to scrutiny.
"I am ready to debate the prime minister and the other party leaders at any time."
---
Nigel Dodds, DUP Westminster leader
"The current shambles has led to a chaotic situation where the voters now doubt whether any debates will take place at all.
"It's the responsibility of the broadcasters that we find ourselves in this situation... the whole thing is quite shambolic and the prime minister is quite right to say the DUP should be included."
---
The broadcasters
"The broadcasters are committed to providing our audiences with election debates. Twenty two million people watched the debates in 2010 and we believe the debates helped people to engage with the election.
"The broadcasters have set out their proposals and continue to talk to all the relevant parties on an equitable basis.
"We will respond to the Conservatives' proposal in due course."