Do more for Hong Kong, MPs urge UK government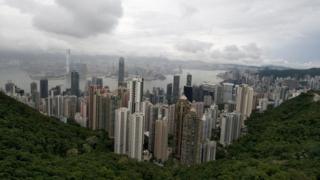 The government should speak up in support of democracy in Hong Kong or risk damage to the UK's reputation there, MPs have said.
The Commons Foreign Affairs Committee urged ministers to press China harder on its plans for political reform.
It also said it was "profoundly disappointed" at ministers' response when China blocked committee members from visiting the former UK colony.
Foreign Office minister Hugo Swire said the UK wanted democratic "transition".
In their report, the MPs said it was vital to stand up for the principles of the 1984 Joint Declaration between the UK and China, which agreed to return Hong Kong under the so-called "one country, two systems" formula.
'Unduly restrictive'
The BBC's diplomatic correspondent Bridget Kendall said that implicit in the report was a wider warning that, "though good trade relations with China are of course important, failing to speak clearly on matters of principle could damage Britain's reputation".
The committee said it welcomed the government's commitment to monitoring the implementation of the joint declaration, but said the six-monthly reports it produces were "bland and repetitive".
It also urged the UK to take "an unambiguous position on its expectations for constitutional reform", describing the nomination process for elections to become Hong Kong's chief executive in 2017 as "unduly restrictive".
In November, the Chinese embassy told the committee it would be stopped from making a planned trip to Hong Kong. The attempted visit came during protests by pro-democracy activists calling for elections free from interference by Beijing.
Criticising the UK's "mild" response to China's move, the MPs said the Foreign and Commonwealth Office (FCO) should have summoned the Chinese ambassador for an explanation.
Committee chairman Sir Richard Ottaway said a "high degree" of autonomy was vital to Hong Kong's prosperity.
"But we are concerned that this high degree of autonomy is coming under pressure, and the FCO needs to take a clear stand," he added.
'Vital' declaration
Sir Richard said a "troubling pattern" was emerging, including reports of press freedom being threatened.
"The fact that China banned our committee from visiting Hong Kong in connection with this inquiry is also indicative of this trend," he added.
"We remain profoundly disappointed with the UK government's mild response to that unprecedented act, and we think the FCO should be clearer in stating its expectations for Hong Kong's political and constitutional future."
Mr Swire said the government shared the committee's view on the "vital" importance of the joint declaration to the "preservation of Hong Kong's way of life".
He said Britain was "fully committed to doing all we can to ensure that it is fully adhered to".
He added: "Our position remains that Hong Kong's stability and prosperity are best guaranteed by a transition to universal suffrage."
Speaking about the committee being prevented from visiting Hong Kong, Mr Swire said the FCO "protested at the time" and left Chinese and Hong Kong officials "in no doubt about Britain's view on this matter".
"This refusal was wholly unjustified and counter-productive, and we made this very clear," he said.