Tory MP says 'time wasted' on pointless Commons procedure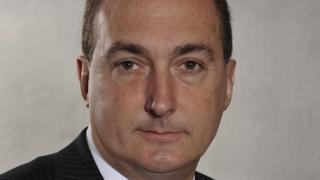 A Conservative MP who is standing down at the next election has said a lot of the procedural work done by politicians at Westminster is a "waste of time".
Mike Weatherley, MP for Hove and Portslade, said he spent a lot of time in committees that "don't go anywhere".
He told BBC Parliament that "it is very difficult to get things through unless the prime minister agrees with you".
At least 85 MPs are standing down from Parliament in May, including seven elected only five years ago.
Mr Weatherley, who announced last year he was leaving Parliament, said he was proud of some of his parliamentary achievements, including his work on changing the law on squatting, but expressed frustrations about the life of an MP.
He said a great deal of his time was wasted on pointless procedure while he believed the whip system prevented him from acting in the way his constituents expected him to.
When he ran for parliament in 2010, he said he was strongly opposed to nuclear power, but his objections were ignored by the whips.
"Nowadays your constituents expect you to be a bit more individualistic," he said.
He said many other backbenchers shared his views that a lot of what they do in Westminster is pointless process.
"What a waste of time most of what we do is," he said. "Sometimes you rush to go to a delegated legislation committee, and you've run in from Hove...
"You're there for two minutes and everyone says 'aye' and you walk out again. It just seems like an archaic way of doing things."
Watch the full interview with Mike Weatherley on BBC Parliament at 23:00 GMT on Friday.