Budget giveaways would not be credible - Vince Cable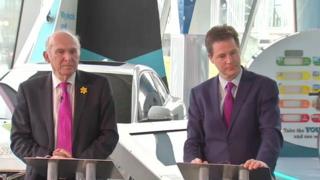 A pre-election Budget with major tax cuts and spending pledges would not be "credible", Business Secretary Vince Cable has said.
The Liberal Democrat minister said his party would be arguing for a "modest approach" not a "big giveaway".
Chancellor George Osborne's last Budget of this Parliament is on 18 March.
Earlier, Lib Dem leader Nick Clegg said the UK could overtake France and Germany to become the largest economy in Europe by 2035.
Newspaper reports have suggested the chancellor is considering a tax cut when he presents his Budget next week.
'Pleasant surprises'
The group of senior ministers known as the "Quad" - Mr Osborne, Prime Minister David Cameron, Mr Clegg and Chief Secretary to the Treasury Danny Alexander - would be meeting later to "thrash out the detail", Mr Clegg said.
Speaking on BBC Radio 4's The World at One, Mr Cable said: "The key point we are wanting to emphasise is that we can't have a big giveaway Budget. Nobody would believe it was credible.
"We know that there are continuing budget problems and that therefore we have to be restrained in what we do.
"Certainly my side of the coalition will be arguing for a modest Budget.
"It may well have some pleasant surprises in it, but it would be completely wrong under current circumstances to have big tax cuts or big spending commitments."
'Hugely ambitious'
The Lib Dems say they would borrow less than Labour but cut less than the Conservatives, saying they would eliminate the deficit on the same timescale as the Tories but including tax rises in their plans.
In a speech alongside Mr Cable, Deputy Prime Minister Nick Clegg said the UK could become the "powerhouse of Europe" under Lib Dem proposals, which would also involve protecting the science budget and doubling the amount of public money spent on innovation.
They would aim to sustain economic growth at an average of more than 1% higher per year than Germany until 2035.
Mr Clegg said: "That is hugely ambitious, but absolutely possible. To do it we need two things - to secure the recovery, and to put in place an ambitious long-term plan that harnesses and encourages the skills and dynamism of British workers and British businesses."
His speech came as Labour and the Conservatives clashed over their rival economic plans.
Shadow chancellor Ed Balls used a speech in London to warn of "unprecedented" £70bn cuts under the Conservatives' blueprint, while Mr Cameron said a Labour government would lead to increased debt, borrowing and taxes.