Conservative MP Stephen O'Brien gets top UN role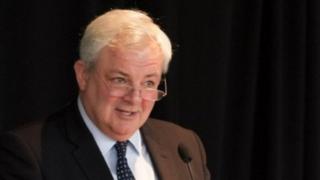 Conservative Stephen O'Brien has been appointed to a top job at the United Nations, in charge of humanitarian affairs and emergency relief.
The MP will succeed former Labour minister Baroness Amos, who is stepping down from the role in May.
Mr O'Brien was an international development minister from 2010 to 2012 and recently has been David Cameron's special envoy to the Sahel region.
He will step down as MP for Eddisbury at the general election.
The UN said Mr O'Brien, who has been an MP since 1999, would bring "extensive experience in multilateral diplomacy and advocacy" to the influential role.
"Mr O'Brien is expected to bring innovative and strategic ideas as a strong humanitarian advocate with more than 20 years of experience in international development and health care," it said in a statement.
Former Conservative Cabinet minister Andrew Lansley had been linked with the role, although development charities warned he had lacked the experience for the job.
Baroness Amos has held the job since 2010, during which time she has led the UN's humanitarian response to natural disasters and conflicts, including the war in Syria.
The post of UN Humanitarian Co-ordinator was created in 1991 and has been held by a British official for seven years. Lady Amos was preceded by diplomat Sir John Holmes.
The UK has one of the largest foreign aid budgets in the world and has met a UN target to spend 0.7% of its national income on overseas development.