Ministers defend curbs on union 'facility time' in Whitehall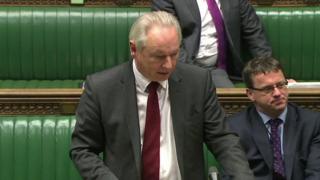 The government says it has saved £26m a year by curbing the activities of union representatives in the civil service.
Cabinet Office minister Francis Maude told MPs that abuses of "facility time" - the practice of allowing union reps paid time off work to deal with union-related matters - had been dealt with.
He said the number of civil servants who were paid full time by unions had fallen from 200 to eight since 2010.
Labour said the changes were part of a "campaign to disenfranchise workers".
In a statement to the House of Commons, Mr Maude said he supported the principle of "facility time" - a long-established principle which is protected by law - because it had an important role to play in the resolution of certain employment disputes.
But he said the amount of time that civil servants spent on union business had to be "controlled and monitored" and it was "unacceptable" that taxpayers were having to pay for their expenses and travel costs to attend trade union meetings and conference.
Time off
Since 2011, he said the annual cost to the taxpayer of supporting "facility time" had been reduced by 75% from £36m to £10m.
Defending the government's clampdown, he said the public expected their money to be spent on funding public services rather than the public sector payroll.
"Facility time in the civil service is now rigorously monitored and reported," he said.
"Now, unless authorised by a minister, all trade union representatives must spend half their time doing the civil service job for which they are employed. Gone is the automatic time off to attend seaside union conferences."
He also said eight government departments, including the Home Office and Foreign Office, were set to end the practice of check-off - in which the employer collects and pays the union subscriptions of their staff directly from their salaries.
'Bogeyman'
Mr Maude said the system was conceived in an era before most people had bank accounts and collecting subscriptions individually by direct debit would give unions a more "direct relationship" with their members.
But Labour spokeswoman Lucy Powell said check-off was used by a host of leading British companies, including Rolls-Royce, GKN and Balfour Beatty and said this and other changed were a "union-bashing exercise" in the run-up to the election.
"It is election time. We have a Tory minister coming to the House in a pre-election union-bashing exercise... there is a clear strategy in his government to public servants up and down the country. The government 'doesn't value the work you do and is hell-bent on disenfranchising you and weakening your rights at work'."
Labour backbencher David Anderson said the Conservatives wanted to set up the unions as a "bogeyman" in the run-up to May's election. "They want another Arthur Scargill so they can rattle the tin in the next few weeks," he said.
But Conservative Mark Pawsey said his constituents would support steps taken to ensure the "fair use" of union time by officials.