Election 2015: Mandelson predicts another hung Parliament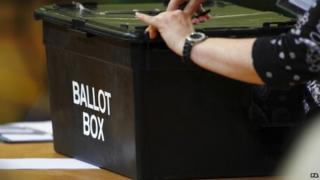 Former cabinet minister Lord Mandelson has predicted another hung Parliament after the election, saying Labour has not done enough to win over voters.
The Labour peer said the 7 May poll would "almost certainly" result in no party winning enough seats to secure an overall majority.
He said Labour and the Conservatives "have never polled a smaller share of the total vote as they are doing now".
The Conservatives said Labour was relying on the SNP to gain office.
Labour and the Conservatives have been roughly neck and neck in the opinion polls of late, with just weeks to go until the general election.
Lord Mandelson's intervention comes two months after he criticised Labour's proposed "mansion tax" on properties worth more than £2m, saying the plan was "crude" and "short-termist".
Better product?
Speaking at a Retail Week conference in London, Lord Mandelson said: "The two big parties in British politics have never polled a smaller share of the total vote as they are doing now.
"Why? Because people basically are unhappy with what's on offer. They are therefore shopping around in politics in a way the large parties are ill-equipped to deal with, which will almost certainly deliver us a stalemate hung Parliament in two months' time."
Asked whether the party would do better under another leader, he replied: "Do you think your product would be better if you changed the wrapping? It depends what you think people are voting for."
He said that while the "personification" of a party was important, the public voted for more than that, basing their decisions on "the party's values and the party's relevance, the quality of that product and whether they think that product - or in our case as politicians, that policy - will do for them".
Reacting to his comments, Conservative Party chairman Grant Shapps said: "Lord Mandelson is confirming what we now all know - the only way Miliband will get into Downing Street is if he's carried there in Alex Salmond's pocket."
Mr Miliband "simply isn't up to the job of being prime minister", he added.
Empty chair
Mr Miliband has come under increasing pressure to rule out the prospect of any future Labour-SNP coalition in the event of another hung Parliament.
David Cameron accused the Labour leader of wanting to "crawl into Downing Street" with the SNP's help during Prime Minister's Questions on Wednesday, when the two leaders clashed over TV election debates.
On the subject of the debates, former Business Secretary Lord Mandelson said the broadcasters should not "impose" them on the political parties, or empty-chair any leader who did not take part.
"I don't think the broadcasters have that entitlement. They are broadcasters, they are not the House of Commons. Who elected them?" he said.
He added that Mr Cameron was entitled not to take part in the proposed debates, and that Labour equally had the right to make him look "completely frit".