John Bercow apologises for 'washing machine' rebuke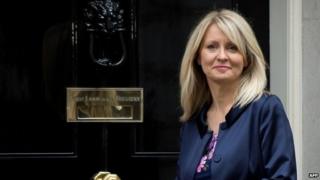 Commons Speaker John Bercow has apologised for likening a minister's answers in Parliament to a washing machine which "does not stop".
Mr Bercow rebuked employment minister Esther McVey for taking too long to reply to a question on Monday during Work and Pensions Questions.
Asked about the remark on Wednesday, Mr Bercow said he had not meant to cause offence and he would happily apologise.
"It was an off-the-cuff remark. It may well have been a foolish one," he said.
Mr Bercow's remarks raised eyebrows and led to criticism from a number of MPs.
He cut Ms McVey short while she was answering a question from a fellow MP about mental health policy, suggesting that he was "reminded of the feeling when one thinks the washing machine will stop - but it does not".
'Highest esteem'
Raising the matter shortly after Prime Minister's Questions, Conservative MP Heather Wheeler asked whether it was appropriate that in the House of Commons "which is a workplace that a female minister should have been referred to as a washing machine".
Mr Bercow replied: "I certainly didn't say that a member was a washing machine.
"If I caused offence to an honourable member on Monday in the course of question time in rebuking her for a long answer - though it did result in a somewhat shorter one after that - if I caused offence by what I said I very happily apologise to that member.
"I intended to cause no offence to her. I hold her in the highest esteem. I hope I ordinarily treat members with great courtesy. It was an off-the-cuff remark, it may well have been a foolish one and I apologise for it."
Mr Bercow continually urges ministers and MPs to keep their contributions concise to ensure the smooth running of business and to allow more members to have their say, an approach which has been praised in some quarters but also has its detractors.