Election 2015: What matters to you?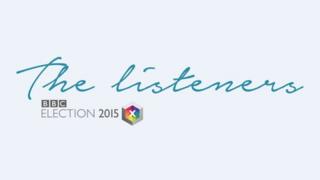 "So who's going to win the election, then?"
It is the question I am asked more than any other, apart from pleas at home to take the bins out.
And whilst I am not much good at the latter, I have absolutely no idea when it comes to the former.
It is strangely liberating to be genuinely clueless, rather than attempting to flesh out a hypothesis only to find out I am proved wrong by events, yet again.
The election is impossible to call.
But, I have a sneaky suspicion that this wildly unpredictable contest, with a multicoloured array of parties, will be fought in primary colours.
We can see it in the campaign so far.
Your stories
Let's play a little game. When I say "election", what pops into your head?
What are the topics you have heard politicians talking about?
I am guessing the economy and the NHS might be rattling around between your ears right now.
There are good reasons why the parties want to talk up these issues: they matter, a lot, to millions of us, as a Populus poll for the BBC in January suggested.
It is also unsurprising, perhaps, that given a huge amount of the political argument is processed and packaged by the mass media, messages get condensed, bottled and mass produced.
But condensed, bottled and mass produced stuff, as popular as it is, might not be as rich, varied and reflective of the range of your concerns in your community.
So, do you have a story that shows politicians what else they should be focusing on?
A general election is an opportunity for us to stop to consider what really matters.
We are offering you the chance to tell us and in return, we will tell everyone else.
The Listeners' Election: share your story with us - and we will share it with everyone else on BBC Radio 4's World at One and in a series of special programmes on Radio 4 in the last week of April.