Government road safety comparison website axed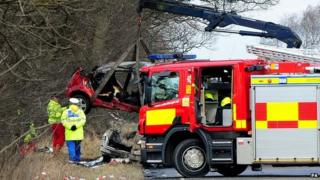 The Department for Transport is axing a website which allows people to compare data about car accidents in England because of a lack of interest.
The English road safety comparison site was launched in March 2013, showing the precise location of sites where injuries occurred on England's roads.
But officials said the website, whose main feature was a "collision map", was only getting 1,200 visits a month.
The department said the information would still be available elsewhere.
In a statement, the department said the website provided "low value" for taxpayers because the information was also available on other commercial websites.
The website lists details of all the motor accidents recorded by the police between 2005 and 2013 and collated by local authority highways, which manage and maintain all but the major trunk roads in their area.
It provides information, on a council-by-council basis, about the location, date, the number and type of vehicles involved, the number of casualties and the severity of the accident, including where a fatal incident has occurred.
Council performance
Statistical data on accident rates for each local authority is also available, alongside expenditure by councils on road safety measures and other relevant data, such as traffic volumes and population changes.
The website, which was backed by a range of motoring organisations including the AA, RAC Foundation and RoadSafe, was designed to help road users better assess the "performance" of different local authorities when it came to road safety.
It was launched in 2013 as part of the government's strategic framework for road safety, which aims to continue to reduce the number of people killed and injured on the roads.
It was also part of a drive to increase transparency and accountability in the public sector by providing people with easy-to-access data on how services are being delivered.
But the department said that since the website's launch similar services had become available and it was attracting just 1,232 users a month.
Despite its closure at the end of the month, the department said the information would still be published as part of other data releases on its gov.uk portal and by the Office for National Statistics.
The most recent figures show the number of fatalities on the UK's roads continuing to fall and remaining at historic lows.