Al Murray 'too heavy' for election campaign skydive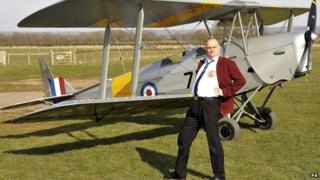 Comedian Al Murray has had to cancel a planned skydive as part of his election campaign - because he is "too heavy".
Mr Murray, whose pub landlord character is based around a love of all things British, is challenging Nigel Farage in the Kent seat of Thanet South in May.
He had been due to parachute into the seat on Friday, but his hopes were dashed when he was told he was over the safe weight, and could not take part.
The would-be MP said an unreliable set of scales were to blame.
The star has formed the Free United Kingdom Party in order to stand for Parliament.
'Double whammy'
The area is currently represented by Conservative MP Laura Sandys but UKIP leader Nigel Farage is hoping to launch his first foray into Westminster by winning there.
In a clear parody of the UKIP symbol, Mr Murray's party has as its logo an upturned pound sign.
Amid an assembled posse of journalists and cameramen at Headcorn Aerodrome, he learned that he was heavier than the 14st 7lb (92kg) limit and could not make the 12,000ft (3,658m) jump.
The comedian blamed the metric scales he was weighed on and said the abandoned attempt proved he was officially a "political heavyweight".
He told reporters: "Unfortunately today's stunt - and that was exactly what it was, a stunt to garner publicity - has had to be cancelled due to unforeseen circumstances.
"It seems that I am too heavy to jump. It's a double whammy. Not only am I another tragic victim of this country's obesity epidemic, but also I have been held back by health and safety gone mad."
Mr Murray had hoped to stage the stunt after saying he was "shocked" at claims he had been parachuted in to fight the seat.
A UKIP spokesperson has said it would be "ungracious" to comment on the episode.