Ed Balls and George Osborne refuse to rule out 'nonsense deals'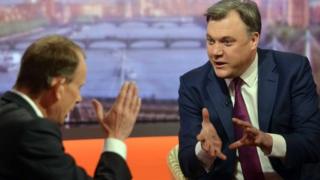 Labour's Ed Balls and Chancellor George Osborne have both refused to rule out post-election deals with the SNP and UKIP respectively.
The shadow chancellor said Labour was "fighting for a majority", calling the idea of a deal "nonsense" despite repeatedly refusing to rule one out.
Mr Osborne also said a Tory deal with UKIP would be "total nonsense", without categorically dismissing one.
Opinion polls suggest the election could result in a hung Parliament.
Recent figures have shown Labour and the Tories as roughly neck and neck in the polls, with no single party predicted to win an overall majority on 7 May. This has led to speculation about possible deals with minor parties.
The Conservatives have published an election poster showing Labour Leader Ed Miliband in Scottish National Party (SNP) former leader Alex Salmond's pocket - amid polls suggesting the SNP will win the majority of Scotland's 59 seats in May.
'Fighting for a majority'
Appearing on BBC One's Andrew Marr Show, Mr Balls was repeatedly asked to rule out a Labour deal with the SNP.
But Mr Balls told the programme the SNP, which campaigns for Scottish independence, "wants to break up the United Kingdom" and could not "stand up for the whole of the UK"
"We don't want any deal with the SNP, it's not part of our plans. It's nonsense," he said.
Asked why he could not simply rule a deal out altogether, Mr Balls said. "Large parties at this stage say we're fighting for a majority - and we are - I'm not going to get involved in speculation about post-election deals. We are fighting for a majority."
He suggested Conservative Chief Whip Michael Gove and UK Independence Party leader Nigel Farage were "good friends" and said it was the Conservatives who were "vulnerable on deals".
In extracts from Mr Farage's memoirs, being serialised in the Daily Telegraph, the UKIP leader rules out a formal coalition with the Conservatives in the event of a hung parliament.
'Rag tag mob'
But he says he would agree to a deal to prop up a Conservative administration - if they were to bring forward their promised EU referendum to this year.
Asked about the idea, Mr Osborne said Mr Farage was trying to "muddy the waters" and said engaging with the UKIP leader was "giving him credibility where he has no credibility".
Mr Osborne: "It's just total nonsense. Voting for Nigel Farage makes Ed Miliband the likely prime minister and it means that instead of getting a referendum on Europe, we will get no referendum at all."
But he would not rule out any deal with UKIP, telling the BBC's Andrew Marr Show: "We are fighting for a majority, we only need 23 more seats to get that majority."
He added: "Nigel Farage is not going to win seats in the House of Commons, even on his own boasts he says he's only going to win a small handful. The SNP are likely to win dozens of seats because of the collapse of the Labour Party [in Scotland]. Ed Miliband can't be prime minister without the support of Alex Salmond."
The Conservatives' current coalition partners have heard their leader make a pitch for the Lib Dems to retain a share of power, at their spring conference in Liverpool.
Nick Clegg told activists Labour and the Conservatives were "deserting the centre ground" and could end up "begging for votes" from a "rag tag mob of nationalists, populists and special interests" - UKIP, the Greens, Respect, the SNP and DUP.
He said the Lib Dems "would not put UKIP in charge of Europe" and "are not going to put the SNP in charge of Britain": "Only the Liberal Democrats will keep Britain on track and govern for the whole country."
Meanwhile former SNP leader and first minister Mr Salmond, who hopes to be elected MP for Gordon in May, told the Scottish Sun on Sunday: "A coalition with Labour is unlikely, confidence and supply is likely and vote by vote support is probable. They can refuse our approach but they would find it very difficult."
He added: "We'll shake Westminster to its foundations."