Budget 2015: Osborne aims to give Tories election lift-off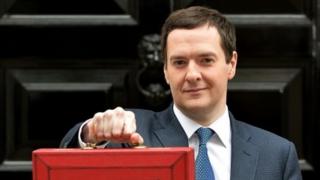 The hope of many Tories is that Wednesday's Budget will give them political lift-off.
That it will be a launch-pad Budget.
One that will enable them to break free from the political stalemate that has both the main parties stuck neck and neck in the polls - seemingly unable to reach out beyond their core support.
George Osborne - it is hoped by Tory MPs - will deliver the crucial blast-off moment that gives them critical political momentum to overhaul Labour and claw their way safely ahead in the polls.
Only, it is hard to see how the chancellor does this.
He has been explicit about ruling out any pre-election bonanza.
"No giveaways, no gimmicks," he has pledged.
Uncanny ability
More importantly, there simply isn't any money to spare. Despite a growing economy the UK still faces a mountainous deficit with the worst of the cuts still to come.
Indeed, Mr Osborne has already said this Budget will have to be cost neutral. In other words - everything will have to be paid for.
On top of that, he has almost no political room for manoeuvre as he find himself hemmed in by his Liberal Democrat coalition partners, unwilling to sanction any Tory vote-winning gestures.
And then there is the broader political problem, that any handout to voters would jar with his need to brace the electorate for more hard times ahead and his daily mantra about sticking with "the long term economic plan".
So should we cancel the countdown for any would-be Budget blast-Off?
I think not.
George Osborne has shown in previous Budgets an uncanny ability to eke out favourable headlines while having almost no cash to spare.
Political statement
So we have had extra cash for the NHS; stamp duty cuts; pension reforms; petrol duty freezes; cuts to beer duty. The list goes on.
The chancellor is also a politician who likes to use a Budget to make a political statement; to reward key groups.
Hence previous Budgets have focussed support on pensioners; home owners; businesses and savers.
These groups represent the core Conservative constituency - and we should expect more help for them again in this Budget.
Already, Mr Osborne has trailed his additional support for pensioners, allowing five million of them to swap their annuities for cash.
But the question is: how does Mr Osborne go further to secure the lift-off his party craves?
One option would be to raise personal tax allowances further and faster.
The problem here is that, while it is highly likely, this has become almost a standard party piece at Budget time.
It no longer has as much impact as it once had - and certainly is not feared by Labour as a game changer.
Northern Powerhouse
He could try to raise the inheritance tax threshold. That worked for Mr Osborne before - when in opposition he successfully stampeded Gordon Brown out of calling an election by pledging to raise inheritance tax thresholds to £1m.
However, while that would delight the Tory faithful, it is unlikely the Liberal Democrats would agree to a tax cut for the better-off.
Of course, there will be more support for the so-called Northern Powerhouse.
But somehow, promising - outside of London - more high-tech clusters, university research projects and enterprise zones doesn't really ignite the electoral boosters.
One radical option some Tories hope for is that he will raise the National Insurance threshold.
This, it is argued, would be a genuine and visible tax cut for "hard working families".
How on earth could he pay for it?
Well, maybe he won't commit to build up such a large budget surplus - £23bn - by the end of the next Parliament.
A symbolic, headline-grabbing tax cut, it's said, could provide the crucial momentum for the Tory election campaign.
But whatever is eventually revealed to be inside his Red Box, be in no doubt that Mr Osborne will have settled on something designed to give his party "lift-off."