Viscount Tenby ends 125 years' family parliamentary service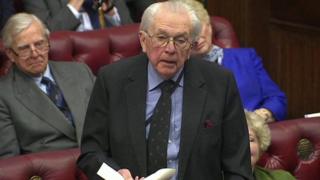 The grandson of David Lloyd George has ended 125 years of continuous parliamentary service by his family in a final speech in the House of Lords.
Viscount Tenby, who is retiring on 1 May, is only the second peer to make what is known as a valedictory speech.
The procedure was brought in after new laws were introduced to allow peers to retire.
Addressing his fellow members, Viscount Tenby told them he was "almost lost for words".
He is one of nine peers who have so far said they will retire in the coming weeks.
During a debate on the Inquiries Act Lord Tenby rose to his feet to a chorus of support from the red benches.
Tribute
He apologised for "gatecrashing" the debate, and told them: "As a Welshman and a Lloyd George, I find myself almost lost for words, which is a pretty kettle of fish, I think you'll agree."
"My retirement will bring to an end 125 years, almost to the day, of continuous parliamentary representation in my immediate family."
Lord Tenby's grandfather, David Lloyd George, was a Liberal MP from 1890 to 1945 and prime minister from 1916 to 1922.
His father, Gwilym Lloyd George, was home secretary as an MP in the 1950s and then became the first Viscount Tenby in 1957.
After his death he was followed in the Lords by his eldest son, David, in 1967, and then on David's death in 1983 by his second son, the present Viscount.
Crossbench peer and leading QC Lord Pannick paid tribute to Lord Tenby, and said he was one of "many" peers to have benefitted from his advice on House matters.
He reminded peers that David Lloyd George had described the Lords as "a body of 500 men chosen at random from amongst the unemployed", adding: "I cannot believe that Viscount Tenby has never not been employed on some worthwhile task."