Karie Murphy 'excluded' from Halifax candidacy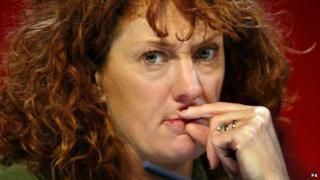 A former Labour candidate who was caught up in the Falkirk vote-rigging row in 2013 has said she has been left off the party's list of candidates for a marginal West Yorkshire seat.
Karie Murphy put her name forward to be Labour's candidate for Halifax, where MP Linda Riordan is standing down.
But on Monday she said she was "disappointed" to have learned through the media that she was not the list.
Labour would not comment, only to say a shortlist would be formed on Tuesday.
The selection panel is chaired by Labour's deputy leader Harriet Harman and is considering an all-female shortlist of six prospective candidates.
BBC Yorkshire political editor Len Tingle said once the short list was formed, it would be up to the Halifax Labour Party who they select as their candidate on Saturday.
Slim majority
The move not to include Ms Murphy risks reigniting a row between the Labour Party and one of its biggest financial backers, Unite union.
Ms Murphy is a friend of Unite general secretary Len McCluskey and the union had lobbied for her to be selected as the area's prospective MP.
Ms Murphy decided not to stand as Labour's candidate in Falkirk, Scotland in 2013 over allegations that the Unite union tried to manipulate the selection process in her favour.
The union and Ms Murphy were both cleared of any wrong-doing, but the episode resulted in Labour leader Ed Miliband announcing reforms to the party's links with unions.
Last week, Ms Murphy said she had been contacted by a "significant" number of Labour Party members in the town about the vacancy in Halifax, prompted by the sitting MP's decision to retire.
Ms Riordan announced last month she was retiring on health grounds after representing the town for 10 years. She wrote to the Labour Party last week warning that it was in "very real danger" of losing the seat unless a candidate was selected soon.
Labour is defending a majority of 1,472 in Halifax.
On Monday Ms Murphy revealed she had been excluded from the shortlist, saying: "I am disappointed that the Labour Party advised the media of my exclusion from the selection list more than three hours before they informed me."
Ms Murphy added: "It is a credit that the shortlist is made up of so many local woman, this is a new and welcome precedent for the Labour Party but it's regrettable that it wasn't applied more rigorously in the past."