Fixed-term parliaments were 'a mistake', says Ken Clarke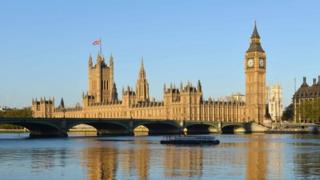 The government's Fixed Term Parliaments Act was a "mistake", ex-Conservative cabinet minister Ken Clarke has said.
The agreement to set five-year terms in stone was part of the coalition deal between the Conservatives and Lib Dems.
But Mr Clarke said the legislation was rushed and should not have been passed, as it made the option of bringing forward an election very complex.
He said an "anarchic situation" was possible after the general election, if it produced no overall winner.
The former justice secretary told the BBC there were "tea room chats" about how to bring about a second election if necessary after 7 May.
One theory was that the government might have to whip its backbenchers to vote against it in order to collapse the parliament and go to the polls once again.
His comments came during an interview - being broadcast today - with Peter Hennessy, as part of his "What Happens When the People Say Not Sure" series for BBC Radio 4.
'Wisdom of hindsight'
The Fixed Term Parliaments Act was introduced by the coalition in 2011 as part of the agreement for government drawn up by the Tories and Lib Dems in the wake of the 2010 general election, which produced no overall winner.
Under its terms, parliamentary elections must be held every five years.
An election could only be triggered before that if a motion of no confidence was passed in the government and no alternative administration could be formed, or if at least two-thirds of MPs approved calls for an early election.
Previously it was up to the prime minister of the day to choose when to call an election, provided it was within five years of the last one being held.
Mr Clarke said: "With the wisdom of hindsight, and I stress I did not resist the Fixed Term Parliaments Act at all when it was proposed, it was part of the deal... it was obviously a mistake.
"It went into the agreement because some Conservatives and some Liberals didn't really trust each other so both of them had a fear that they were going to be double-crossed and that the other was suddenly going to collapse the agreement at some convenient time for the other party, and they both wanted to guard against this.
"Therefore they legislated themselves into a five-year fixed-term parliament - I say they: we, because I was a Conservative cabinet minister - without really much thought."
Voting habits
Mr Clarke, whose cabinet career spanned more than 20 years, said the Act was drafted "in a ridiculous hurry" and made it very difficult to bring an end to a parliament or a government if necessary.
"There are all kinds of legalistic constraints which our unwritten constitution previously saved us from," the former justice secretary told the programme.
He added: "If we do have a hung parliament we now have a rather silly, really, complex process that would be necessary to bring it to an end and it would be slightly out of control."
However, Mr Clarke said there was nothing to suggest that a second election would produce a majority government.
He noted that the political landscape had shifted over recent years with fewer people voting either Labour or Conservative, and said this was unlikely to change.
On that basis, he said, "we better start developing a political culture than can cope with that".
In October last year, a cross-party group of backbench MPs led an attempt to repeal the legislation enacting fixed term parliaments, but it was rejected by 60 votes to 21.
Peter Hennessy's interview with Ken Clarke will be broadcast on Tuesday 17 March at 13.45 on BBC Radio 4.