A guide to who might succeed David Cameron as Tory leader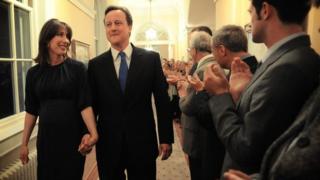 David Cameron's declaration that he will not seek a third term in office if he retains power in May has immediately stoked interest in who might fill his shoes when he's gone. Here are the likely - and perhaps less obvious - possibilities.
---
1. George Osborne
Claim? As chancellor of the exchequer he's the man in charge of the purse strings and master strategist - and reportedly the PM's favourite to succeed him, although he hasn't said as much. Mr Cameron's right-hand man has had an image makeover of late, with a new haircut and a diet to shed some pounds. And he has seemingly recovered from his "omnishambles" Budget in 2012, with his latest - and last Budget - of the parliament giving the Tories a lead in some polls. He's said to be well liked among Conservative cabinet ministers and backbench MPs, whose support is vital for any candidate wanting to take on the party leadership. He shas some work to do among grassroots Tory members, however, coming fifth in ConservativeHome's latest online poll of party members on future leaders.
Latest odds: 10/1 (according to William Hill)
What's he said? "The prime minister leads a strong team but what you see from him is answering a direct question with a direct answer. I think that's really refreshing. He says he's going to serve that full five years so the real question facing the country now is do you want the strong leadership of David Cameron that's delivering zero inflation and record jobs or do you want the chaos and incompetence of Ed Miliband."
---
2. Theresa May
Claim? The longest-serving home secretary in 50 years, she is only the second Conservative woman to secure one of the top four jobs in government. In her role, she has talked tough on immigration and crime and taken on the Police Federation. And she is popular with Tory activists, consistently occupying either first or second place in ConservativeHome's online polls on future party leaders. There have long been claims of Mrs May positioning herself for the top job, with reported tensions between her and the prime minister. Critics say she lacks charisma and micro-manages - while some cannot forget her coining the now infamous "nasty party" phrase at a Tory conference in 2002, but supporters say she is a formidable operator, and have dubbed her Britain's Angela Merkel.
Latest odds: 9/2
What's she said? "My view is very simple, David Cameron is a first class leader of the party and a first class prime minister and I hope he is going to be doing that for a very long time." (Desert Island discs, 23 November 2014)
---
3. Boris Johnson
Claim? The blonde bombshell and mayor of London who can seemingly reach voters that others in the party cannot. Casting aside a rather chequered past he steered the capital through the 2012 Olympics, launched the successful and popular "Boris bikes" and got rid of London's "bendy buses" in favour of the new Routemaster double deckers. Mr Johnson hopes to revive his Westminster parliamentary career at the general election. He has been tipped by many to take the helm of the Conservative Party, and has not discouraged the idea. Like Theresa May, he is also a favourite among the grassroots of the party, pipping her to the top spot in ConservativeHome's latest poll of party members on future leaders. (he's ahead by 2 points). Critics say the gaffe-prone politician is not the right man for the job, but his supporters point to his wide-spread appeal.
Latest odds: 9/4
What's he said? "I think what David Cameron is saying is banal and obvious. There has already been a leader of the Conservative Party for ten years and he's done an outstanding job. What he's saying now is that he wants to serve through to 2020 and that is frankly what we need him to do... five more years is what this country needs. I'm not entirely certain I see what the story is. He was asked a straight question, are you going to serve a third term like Mrs Thatcher or Tony Blair and he said no, because he thinks that ten years on top of British politics is an incredibly long time."
---
4. Sajid Javid
Claim? A self-made millionaire and devotee of Margaret Thatcher, he is regarded as one of the Conservatives' fastest-rising stars. The Treasury minister-turned-culture secretary became the first of the 2010 intake of MPs to reach cabinet level, and the first Asian male Conservative cabinet minister. He's currently polling well among the Conservative grassroots, who voted him third most preferable leader in ConservativeHome's latest online future leader poll. David Cameron recently said he wants to see a British Asian prime minister in his lifetime.
Latest odds: 12/1
---
5. Philip Hammond
Claim? Currently holding one of the four great offices of state - foreign secretary - Mr Hammond's name has often cropped up whenever talk of leadership contenders has emerged. He has built up an impressive CV in government since the Conservatives came to power in 2010, being first awarded the job of transport secretary before his promotion to defence secretary where he stayed for three years. He's regarded by many commentators as being a potential candidate for the Tory right. He seems to have work to do among party activists, scoring only 4% in ConservativeHome's future leader poll.
Latest odds: 12/1