Watchdog 'complicit' in Eric Joyce expenses bill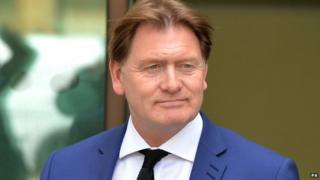 The Commons expenses watchdog has been criticised for failing to stop former MP Eric Joyce running up alleged debts to the taxpayer of more than £10,000.
A report said the Independent Parliamentary Standards Authority should have challenged claims submitted by Mr Joyce, who represented Falkirk.
The internal report said IPSA was right to pursue Mr Joyce, who has challenged some of the watchdog's claims.
Mr Joyce said he had lost confidence in IPSA, saying it was "incompetent".
The report, by IPSA's compliance officer Peter Davis, was triggered by a complaint from Mr Joyce against the watchdog after it said some of his claims - relating to staff expenses and his use of his official credit card - were invalid.
'Fairly consistent'
The disputed amounts were paid before IPSA decided some fell outside the rules, and tried to reclaim them. They included £896.92 for a three-night hotel stay, which exceeded the £450 limit.
MPs are allowed to use their credit cards for travel, hotels, and telephone bills for their constituency offices.
The report said: "IPSA has provided Mr Joyce with payment cards since 2010 and his misuse of the cards has been fairly consistent throughout the time he has held them."
Mr Joyce had used his card 60 times to make payments that fell outside the allowance rules, it said.
Mr Joyce's card had been "briefly suspended" on several occasions, it said, adding: "Had they taken decisive action when it became apparent that there was persistent misuse of the payment card the accrued debt would have been a fraction of the figure it has become."
The report also said claims of £4,408.08 relating to staff costs had fallen outside the rules.
'Happy to pay'
But it said the watchdog had been "complicit" because it had not challenged the "underlying validity" of the claims, had delayed telling Mr Joyce that repayment was required and had published "unclear" guidance on staff travel.
The compliance officer also said accommodation expenses claimed by Mr Joyce, who used hotels rather than renting homes, were "considerably lower" than other MPs and said he should have been refunded for fees charged for cancelled bookings.
Mr Joyce told the BBC IPSA had advised that claims "over a lengthy period" by his researcher were within the rules, then, after two years, said they had made a mistake.
He said the watchdog then did not tell him for a year, but gave the impression "through media statements that I'd known all along".
He added: "On other stuff, I was slack but by that point had lost any confidence in IPSA which had literally lied to me and my staff on many occasions."
He said he was "happy to pay anything agreed".
IT equipment
Meanwhile, in a separate development, IPSA has revealed it wrote to 60 MPs questioning their claims after large sums were spent on IT equipment in September.
The purchases, which included iPads and computers, were made before pre-election restrictions came into force at the end of that month.
Some of the claims were made by MPs who were not standing at the election.
IPSA said it found no evidence any of the claims, which totalled £71,216.48, broke the rules.
It said it did not check what MPs did with equipment bought for their offices once they leave parliament.
"We have issued guidance to MPs that they should transfer these items to a successor, another MP or donate the equipment to charity," a spokesman said.