John Whittingdale: We will push for Fifa reform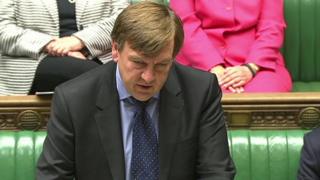 The government will do all it can to bring about change in Fifa following the "disappointing" re-election of Sepp Blatter as its president, Culture Secretary John Whittingdale has said.
Mr Whittingdale repeated calls for Mr Blatter to quit, saying his credibility had been "utterly destroyed".
Mr Blatter's re-election came in the aftermath of arrests of senior Fifa officials over corruption allegations.
The arrests were part of a US prosecution that indicted 14 people.
Swiss prosecutors have launched a separate investigation into the bidding process for the World Cup tournaments in 2018 in Russia and 2022 in Qatar.
Mr Blatter, who has not been accused of any wrongdoing himself, has refused to step down despite appeals from figures including Michel Platini, head of European football's governing body UEFA and David Cameron.
He has claimed that Fifa has been subjected to a "hate" campaign by European footballing nations and questioned the motives of his critics, including the UK and US, pointing out that they lost out in the bidding for the 2018 and 2022 tournaments.
'Kickbacks and corruption'
Responding to an urgent question in the House of Commons, Mr Whittingdale told MPs: "Fifa's support for its discredited president was incredibly disappointing.
"But it will not have surprised the footballing public who have become increasingly cynical as the allegations of misconduct and malfeasance have piled up."
He said the voting system was "designed to support the incumbent" but added that "there is no doubt that what remained of Sepp Blatter's credibility has been utterly destroyed".
He said the fact that more than 70 national associations voted against him in favour of the rival candidate "shows that momentum is building against him".
"Fifa needs to change, and to change now," he told MPs and pledged that the government would do "all in its power" to help bring that about.
He said he supported the English Football Association's efforts to end "the culture of kickbacks and corruption" at Fifa, adding that "no options should be ruled out".
Mr Whittingdale endorsed the US and Swiss authorities' investigations, and offered the British authorities' full co-operation.
He also said Fifa's sponsors needed to think "long and hard" about whether they wanted to be associated with "a discredited and disgraced" organisation.
'Mafioso cronyism'
Labour shadow culture secretary, Chris Bryant - who tabled the urgent question - said Mr Blatter had shown "he cannot and will not" bring about the reforms Fifa needs.
Mr Bryant suggested "mafioso cronyism" had helped him to survive the vote, "but he is the tainted leader of a corrupt organisation and by clinging on he is dragging Fifa further and further into the mud".
He called for Uefa and other major football associations to consider setting up alternative football competitions to 2018 and 2022 World Cups.
And he said the prime minister should call a summit of broadcasters and football associations to agree a "robust common position".
Amid calls for a boycott of future World Cups, Mr Whittingdale cautioned that action by England alone would be "self-defeating" and would need the support of other countries to be effective.
However, if there was enough support for such action, then that alone could force change, he added.
He told MPs FA chairman Greg Dyke would discuss the idea at a Uefa meeting later this week, adding: "I do think that this is a matter in the first instance for football to decide."