Iraq Inquiry: Blair gives early insight into Chilcot response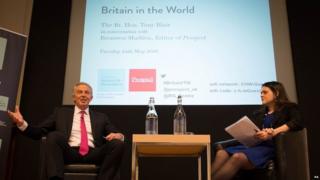 Tony Blair didn't utter the C word - he won't comment on the Chilcot inquiry into the Iraq war until the report is published on 6 July.
But at an event in central London organised by the Centre on Religion and Geopolitics - a think tank which he helped to set up - he made it clear he would be unapologetic for his role in taking Britain to war in 2003.
He certainly hadn't drawn the lesson that western military intervention in the Middle East was counter-productive. He talked of a "generational struggle" against so-called Islamic State, saying "we are not being honest with our public if we are saying it is possible to defeat these people without making the commitment to defeat them and to do what it takes to defeat them".
For him, that was likely to require Western boots on the ground:
"You have got to defeat these people on the ground. The armed forces of America, the UK, France, other major countries have both experience and capability so even if we are using them in support of local forces, you have just got to decide what our objective is. Is our objective to defeat this enemy? My answer to that is yes.
"Do not be under any doubt at all - if you are going to defeat these people you are going to have to go and wage a proper ground war against them. The only question for us is if we are prepared to do that or not."
Regime change
And he made no apology for toppling Saddam Hussein's dictatorship.
"There is a line today that's very common in western discourse, left and right, that says 'you know what, it would be better that these dictators stay in power'. I don't personally agree with it, but it doesn't matter if I agree with it or I don't - what the Arab Spring shows you is these countries with young populations, with radical forces operating within them, are not going to accept that...
"The answer is not have 20% of the population controlling the other 80% - that ain't going to work."
He drew his own lesson from the Iraq conflict, namely that it wasn't that it had been wrong to go to war but it was a lack of planning for the aftermath that had been at fault.
"We underestimated profoundly the forces that were at work in the region and would take advantage of the change once you topple the regime. The lesson is not complicated. It's simple."
So today we had a taster of how the former prime minister will take on the criticisms of him in Chilcot - criticisms he has seen but the wider public has not.
Like all other witnesses to the inquiry he won't see the full 6,000 pages until the day itself and will then face more searching questions about how the decision to go to war was taken.