Twitter reacts as Andrea Leadsom withdraws from leadership race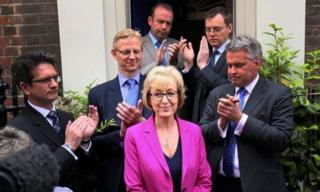 Andrea Leadsom has stood down from the Conservative Party leadership race, clearing the field for the Home Secretary, Theresa May, to be named as Britain's second female prime minister.
Mrs Leadsom, who campaigned for Britain to leave the EU, said the UK needed "strong and stable government" and Mrs May was "ideally placed" to implement Brexit.
Over the past 12 hours, more than 100,000 tweets have been written about Andrea Leadsom.
This is how Twitter reacted to the latest twists and turns in the Tory leadership race. The BBC's political editor Laura Kuenssberg alluded to the news late on Monday morning, followed by a tweet 10 minutes later suggesting that Theresa May could have the country's top job.
As rumours started to swirl around Twitter that Andrea Leadsom was planning to withdraw from the Conservative Party leadership contest, a tweet from the lawyer Jo Maughan QC that highlighted a key section of the constitution of the Conservative Party was shared hundreds of times.
The next line from the constitution was omitted from Mr Maughan's original screen shot.
It says: "If there is only one candidate at the time laid down for the close of nominations, that candidate shall be declared leader of the party."
Graham Brady MP, who chairs of the 1922 Committee said the party was not "discussing coronations" but it was now procedure for the committee to "formally consult" before confirming Theresa May as the leader of the Conservative Party.
Conservative MPs were quick to tweet their support for Andrea Leadsom's decision.
Former mayor of London candidate Zac Goldsmith tweeted his support for the "dignified exit" made by Andrea Leadsom.
Anna Soubry, the Minister of State for Small Business and Industry, also tweeted her support.
Some political commentators celebrated the arrival of Theresa May as Britain's new Prime Minister.
While comedian David Schneider pointed out that Mrs Leadsom had followed the path trodden by her fellow leave campaigners Boris Johnson and Nigel Farage.
The Labour MP David Lammy suggested that leave campaigners like Mrs Leadsom were squabbling over who should show leadership after the Brexit vote.
Little Britain and Hollywood star Matt Lucas poked fun at the controversy surrounding an interview in The Times newspaper, where Mrs Leadsom was quoted as saying that having children meant she had "a very real stake" in Britain's future.
Andrea Leadsom's announcement meant that several political journalists were forced to leave a press conference being given by the Labour MP Angela Eagle, who was announcing her decision to stand against Jeremy Corbyn for the leadership of the Labour Party.
Good Morning Britain presenter Piers Morgan lamented the speed of news in British politics since the vote to leave the EU.
While the STV journalist Stephen Daisley offered an alternative challenger to Theresa May.
Compiled by Hannah Henderson, the BBC's UGC and Social News team