Labour leadership: Ruling due on voting restrictions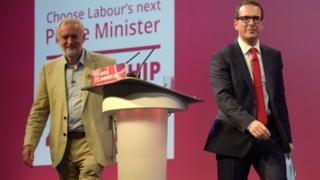 A court is to rule on a legal challenge to Labour rules excluding anyone who joined the party after 12 January from voting in the leadership contest between Jeremy Corbyn and Owen Smith.
Five new party members are claiming breach of contract, saying they have "paid their dues" for a right to vote.
To be able to vote, anyone who joined after 12 January had to pay an extra £25 to become a "registered supporter".
The result of the leadership contest is due on 24 September.
Mr Smith is challenging Mr Corbyn for the leadership, after the incumbent lost a vote of no confidence of his MPs, with mass resignations from his top team.
The High Court case was triggered by the decision by Labour's governing body, the National Executive Committee (NEC), that full members could only vote if they had at least six months' continuous membership up to July 12 - the "freeze date".
But the party offered a window from 18-20 July when they - and non-members - could pay £25 to become "registered supporters" and gain the right to vote.
'Wrongly excluded'
At the High Court hearing on Thursday, Stephen Cragg QC argued on behalf of the group bringing the challenge, that the NEC could not "run roughshod" over the party rulebook by imposing a retrospective cut-off, or freeze date, on the right to vote.
"They paid their dues and found to their surprise they had been excluded from the present election. We say they have been wrongly excluded by breach of contract from the right to vote," he said.
But Peter Oldham QC, representing Labour Party chairman Iain McNicol, said the NEC had broad discretion in the rules to apply such a cut-off date and argued that the court should exercise "particular caution" when it came to limiting the powers of political parties.
Referring to the NEC and the party rulebook, he said: "The court should give full rein to the powers that body has expressed in the governing document."
Judge Mr Justice Hickinbottom said he appreciated there may be "political consequences" to his decision, but that his judgment would be "pure" on the issue in question, which was contract law.
The five Labour members who launched the legal challenge have been crowdfunded and are seeking to raise £40,000 to cover their legal costs.
The judgment is due on Monday morning.
---
Labour leadership election timetable
22 August: Ballot papers start to be sent out in the post (Labour Party members only) and by email
21 September: Deadline for ballot papers to be returned is midday
24 September: The result will be announced at a special conference in Liverpool