Ashdown 'brownshirts' tweet criticised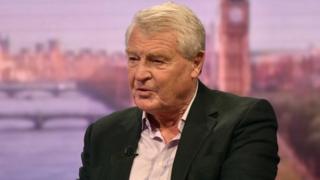 Former Lib Dem leader Lord Ashdown has been criticised for comparing Conservative Brexit supporters with Nazi paramilitaries.
Lord Ashdown tweeted that "the Tory Brexit brownshirts are stirring" ahead of next month's party conference.
Brownshirts was the name given to the Sturmabteilung, which acted as the paramilitary wing of the Nazi Party during Hitler's rise to power.
Tory MP James Cleverly demanded an apology for the "disgusting" comment.
But Lord Ashdown, who campaigned for Remain in June's EU referendum, defended himself on Twitter over what he called "Brownshirt-gate".
He said: "Even allowing for these over-heated times, do we really have to lose contact with the concept of the metaphor?"
Criticised for another use of the term over the weekend, he suggested it had been a reference to "extremists" in Theresa May's cabinet.