TUC warns against 'cherry-picking' some workers for pay rises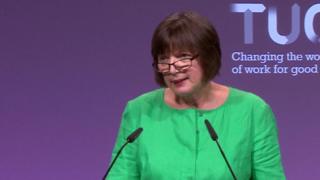 The whole public sector needs a pay rise, the TUC's general secretary has said as she warned ministers against "cherry-picking" certain workers.
Frances O'Grady told the TUC's annual conference that workers had had enough after seven years of pay freezes and caps being "imposed" on them.
The BBC understands ministers will lift the 1% public pay cap for the first time, for police and prison officers.
But they have been warned any increase must be fully funded by the government.
Public sector pay was frozen for two years in 2010, except for those earning less than £21,000 a year, and since 2013, rises have been capped at 1% - below the rate of inflation.
The higher increases expected to be announced this week for police and prison officers are based on the recommendations of independent pay review bodies, with recruitment and retention problems being cited in the case of prison officers.
The BBC understands the Treasury will then issue guidance on next year's pay round, which is likely to see the cap eased in other areas where there are similar problems, such as teaching and nursing.
Ms O'Grady told union members in Brighton that Prime Minister Theresa May's recent comments about the sacrifices of public sector workers would ring hollow if only some of them were rewarded.
"Five million hardworking public servants need it," she said.
"The public backs it. Now just tell the Treasury to get on with it and give public sector workers a pay rise - no cherry-picking.
"All public services deserve a pay rise, and they deserve it now."
---
Analysis: Iain Watson, BBC political correspondent
Most - though not all - pay review bodies this year identified recruitment and retention problems, but decided to take note of government policy on wage restraint so they didn't recommend rises above an average of 1%.
But the police and prison officers review bodies, in as yet unpublished reports, did call for increases above 1% this summer, and the government has been mulling over how to handle a controversial issue.
This week it will agree the recommendations, though there may be some creativity over how the pay awards are implemented.
And the government would also say that some public sector workers have enjoyed rises above 1% through promotion or pay increments.
But now, more widely, the Treasury is expected to tell other pay bodies - covering teachers and NHS staff for example - that they can take recruitment and retention difficulties into account when recommending next year's increases.
So not lifting of the pay cap across the board - which Labour is calling for - but this could be, as the TUC put it, a crack in the ice of pay restraint.
---
The BBC's home affairs correspondent Danny Shaw said that while police forces were welcoming reports of a pay rise, there were widespread concerns it would put a huge strain on them if extra resources were not found.
The West Midlands Police and Crime Commissioner has warned that, in such a scenario, 80 jobs would be lost for every 1% rise above the current cap.
"If the government do not put aside money to fund the pay increase, PCCs will be left with large bills and have no other option other than to reduce officer and staff numbers," Labour's David Jamieson said.
"The government must act quickly to ensure that its pay cap lifting is not a hollow gesture."
Labour's health spokesman Jon Ashworth said ministers must state categorically what the position was.
He told Sky News: "We keep getting briefings in newspapers and suggestions that the government is sympathetic and wants to do something, and 'oh, it's terrible and we accept that but let's see where we get to'."
The Public and Commercial Services union is to ballot its members on industrial action over the cap.
The Institute for Fiscal Studies has said raising pay in line with inflation for the next three or four years would cost £6bn to £7bn more than continuing with the current policy.
During Prime Minister's Questions on Wednesday, Theresa May said public sector workers were doing a vital job in often harrowing circumstances.
She added that the government would wait for the publication of the police and prison officers' pay review bodies' reports before deciding its policy framework for 2018-2019.