MP Darren Jones sports painted nails in slavery awareness stunt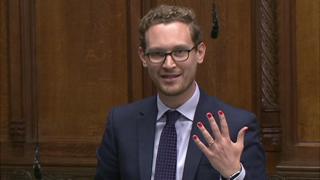 A Labour MP has spoken with painted nails in the Commons to raise awareness of modern slavery in nail bars.
Darren Jones, MP for Bristol North West, defended Avon and Somerset police officers who had done the same.
He said the force had faced a backlash from some newspapers.
The force's #LetsNailIt hashtag on social media used a series of tweets of male and female officers with painted nails to highlight the issue of modern day slavery.
Mr Jones said car washes and nail bars were a common location for modern slavery.
"I share other members' concerns that the papers have reported a backlash against Avon and Somerset Constabulary for wanting to raise this issue on social media in a way that communicates to people in their daily lives to keep an eye out for where they see these things happening," he said.
In July this year the force raided a nail bar in Mr Jones's constituency and arrested four people for trafficking and slavery offences, he said.
Mr Jones said he could be the first male MP to have sported painted nails in the Commons.
He added: "It's not also an endorsement for Eddie Izzard for the Labour NEC."