Response to Tory activist's rape claim 'took too long'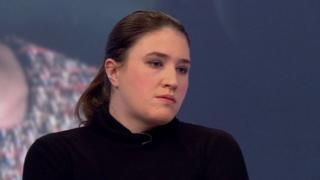 An ex-Tory activist who claimed she was raped by a man who worked for an MP says it has taken "far too long" for the Commons leader to speak to her.
Lisa Wade told Victoria Derbyshire the Commons authorities had also failed to act over her concerns about a "toxic culture" in Westminster.
On Monday she spoke to Andrea Leadsom but said she had only got in touch after pressure from the media.
Mrs Leadsom insists it would not have been appropriate to act at the time.
Ms Wade, whom we previously referred to as Amanda but who has now waived her right to anonymity, said she had told the Commons clerk in August that she had been raped by someone who worked for a Conservative MP. The alleged incident did not happen at Westminster.
She asked for her concerns about the Westminster culture to be passed on to the chief whip and the leader of the house, but heard nothing more until she appeared on the programme.
Mrs Leadsom's office say she did not receive an official complaint in relation to the allegations. But the BBC established she was told about them by the clerk in a regular briefing.
'Wanted change'
On Monday, Ms Wade had a 20-minute phone call with Mrs Leadsom.
"Primarily she called to apologise... and say that she really wanted to change things in Westminster, so that the behaviour that I witnessed could no longer occur," she said.
"She wanted to create an independent grievance body for activists and workers in the future to go to. It was what I expected her to say really, nothing more, nothing less."
The man she had accused of rape strongly denied the allegation and the case was later dropped before it went to trial after a review of the evidence by the CPS.
Both the clerk and Ms Leadsom said it would not have been appropriate to take any further action given the continuing criminal case at the time.
Ms Wade said at the time she made the complaint she was expecting to go through a court case, which she thought would make it "fairly obvious that the allegation is incredibly serious".
"I respect the fact that politicians feel they can't get involved in criminal matters but I do think they have a duty to take care when it involves individuals who work in Parliament," she said.
'Verbally abused'
She said politicians could ensure this by listening.
"These allegations have been around for years regarding staffers and MPs etc, up until recently you couldn't speak out and you would get verbally and reputationally abused for doing so," she explained.
Ms Wade said she was "disappointed but not surprised" by how long it had taken to get a response and was still not sure the parliamentary authorities were taking the issue seriously.
"In the absence of an independent ombudsman or similar it's difficult to take that complaints procedure away from the individual parties or those who are concerned with protecting reputations," she said.
"In my experience it's only when the media draws attention to the nature of these concerns and applies due pressure they start to respond. It's not the right kind of response, they should be responding out of genuine concern."
A spokesman for Mrs Leadsom said: "A private conversation took place to try and reassure the woman in question that the leader is taking the issues of bullying and harassment very seriously. The Leader of the House does not comment on the details of private conversations."
Watch the Victoria Derbyshire programme on weekdays between 09:00 and 11:00 on BBC Two and the BBC News Channel.