Is the moment of truth approaching for Brexit talks?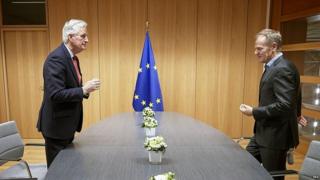 The "moment of truth" is approaching - so says the EU's top man around the negotiation table.
Negotiations have plenty of false summits, and indeed sometimes manufactured drama; what better to force one side's hand than a threat of an irrecoverable bust-up if they don't budge?
For the "moment of truth" to come next week needs someone to change their mind. Right now the two sides in this negotiation are using different logic. And what happens to the Irish border is the problem that neither the UK nor the EU seem ready yet to crack.
And there is a long list of reasons why...
1. Theresa May says the UK is leaving the customs union as well as the single market.
2. That implies some kind of border between the North and South of Ireland - however "frictionless", however light touch, if they have different customs regimes on either side there has to be a way of at least theoretically being able to check what is moving backwards and forwards across the country line.
3. The UK does not want a "hard border", anything with lots of checkpoints, let alone walls or border fences - the history of the island makes that politically unacceptable.
4. Ireland does not want a 'hard border' either.
But...
5. The UK is adamant it will not settle this issue before entering the next phase of the talks that will discuss customs arrangements.
6. Ireland wants a written guarantee, a firm undertaking that there won't be a hard border before they are ready to move on to that phase.
7. Ireland can, in theory, kybosh the talks on their own if they are not satisfied with the UK's answer in the next week. And with their own government wobbling, there is a risk all this gets caught up in Ireland's messy politics.
8. Officials in the two countries had been discussing possible solutions but sources suggest that has stalled.
9. The DUP, who Theresa May relies on in Parliament, is adamant that Northern Ireland must not in any way be differently or less British than the rest of the country.
10. Some Tory Eurosceptics and Labour are waiting to use the potential failure to move on in December as a way to turn up the pressure on the prime minister. In purely political terms it's not in everyone's interest for there to be progress.
For there to be a breakthrough, for that "moment of truth" to come, more than a bit of budging is required.