Mum's Army? Call for sitcom reboot to celebrate World War One women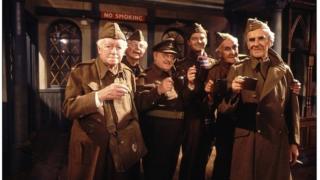 There have been calls for a "Mum's Army" sitcom to celebrate the contribution of women in World War One.
MPs used a Westminster debate to pay tribute to the "overlooked" sacrifices of women, as nurses, combatants and home front workers, in the Great War.
Among those highlighted was Dr Elsie Inglis, who set up 14 field hospitals across Europe staffed mainly by women.
"If the BBC is watching", Labour's Ian Murray said, it should consider a female reboot of the wartime comedy.
The show, which starred Arthur Lowe and John Le Mesurier and remains a fixture on British television nearly 50 years after its 1968 debut, had an overwhelmingly male cast.
It recounted the redoubtable but often hapless fictional exploits of a home guard brigade in Walmington-on-Sea during World War Two.
There was a Mum's Army episode in 1970 in which women were briefly allowed into the platoon.
Mr Murray said its timeless qualities meant it was the perfect vehicle to draw attention to the work of Dr Inglis, who set up field units near the front line in France, Serbia, Ukraine and Romania, and other women during World War One.
More than 100,000 women joined Britain's armed forces during the Great War, serving as, among other roles, pilots, wrens in the Royal Navy and ambulance drivers.
An estimated 65,000 women were working in munitions factories by the end of the 1914-1918 conflict.
Mr Murray, who represents the Edinburgh South constituency, said Dr Inglis was just one of many "passionate, dedicated and often modest" women who played a vital role in the war effort and whose stories deserve to be much more widely known.
"We will see many centenaries this year and next in the run-up to the centenary of the end of the First World War," he said.
"For everyone who made an effort, particularly for women, we will do two things: thank them for the service they gave this country and say that we will always remember them.
"Perhaps, if someone from the BBC is watching, they might want to change "Dad's Army" to "Mum's Army" and make a new comedy series about the contribution of women to the war effort."
A qualified surgeon who was also a leading figure in the suffragist movement in Scotland, Dr Inglis fought bureaucratic resistance, desperate sanitary conditions and a typhus outbreak to save thousands of lives.
The centenary of her funeral on 29 November 1917 will be marked on Wednesday, when relatives and dignitaries will attend a church service in Edinburgh.
Lib Dem MP Christine Jardine said Dr Inglis was "part of a glorious thread woven through British history of the contributions that women have made at home during war and at the front itself, and after war too".
Other women highlighted during the debate included Alexandra "Mona" Chalmers Watson and Dame Helen Gwynne-Vaughan, who served in the Women's Army Auxiliary Corps - the British army's first female unit formed in 1917 - Dame Katharine Furse, the first director of the Women's Royal Naval Service and Margaret Damer Dawson who established the first ever women's police force in 1914.
Labour MP Luke Pollard called for an audit of public statues and other works of historical commemoration to address what he said was the imbalance in representation of women.
"As 50% of the population, it is right that 50% of the stories that are told are about women," he said.
"Given the anniversary of women getting the right to vote next year... now might be a good time... to correct that and to tell the story of women's role in public life."