Justine Greening hits out at Heathrow expansion plans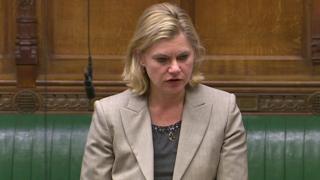 Former Education Secretary Justine Greening has criticised the government over its plans to expand Heathrow.
The MP for Putney, which is close to the West London airport, said she believed the proposals were "flawed".
Ms Greening quit the Cabinet last week after refusing a job as work and pensions secretary.
But Transport Secretary Chris Grayling said he believed expansion of the UK's biggest international airport was "hugely important" for the UK.
The clash came as Ms Greening used transport questions in the Commons to claim the latest evidence suggested the plan was "more expensive, lower value, more congesting, noisier and provides fewer connections".
Mr Grayling said he had already had a number of discussions with Ms Greening about the issue and said Heathrow expansion was "strategically important" for the UK.
But speaking from the backbenches, Ms Greening asked: "On what evidence is the government now pushing ahead with what I believe to be a flawed plan for expanding Heathrow?"
She added: "Will you meet me to discuss this?"
Mr Grayling replied: "I know how strongly you feel about this.
"You and I had many conversations about this and I know we will carry on doing so. You and I, of course, don't share the same view.
"I believe this project is strategically important for the United Kingdom, but I'm happy to come and discuss it with you."
On Wednesday, Ms Greening told the Commons that a future generation of MPs will seek to "improve or undo" Brexit if it does not work for young people.