UKIP: Henry Bolton faces make-or-break leadership vote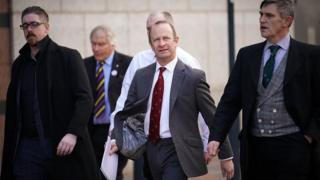 Around 2,000 UKIP members are in Birmingham to vote on whether to back or sack party leader Henry Bolton.
The meeting will decide the fate of the former army officer, who has been in the job for less than six months.
He has faced calls to quit since it emerged his partner Jo Marney sent racist messages about Meghan Markle.
But ex-leader Nigel Farage backed Mr Bolton, saying "for all his faults", removing him would hasten UKIP's path to "irrelevance".
Mr Farage has warned the party - which won 12.6% of the vote in the 2015 general election but has been in a tailspin ever since - was in danger of "collapsing" and it might be "too late to save it".
'Done nothing'
Mr Bolton has come out fighting on the eve of the vote, saying he is the man to "reform, professionalise and unite" UKIP.
But Paul Oakley, general secretary of UKIP, told the Today programme Mr Bolton had let the party down.
"I have no interest whatsoever in his personal life," he said. "For me, it's the fact that he's done nothing as leader, he's not making the case for Brexit."
Mr Oakley said he was also concerned by the lack of campaigning ahead of May's local elections.
"We've done nothing. Henry will be out after the local elections if he isn't out today," he added.
Several senior figures, including former leader Lord Pearson, have called on party officials to prepare for the future by uniting behind MEP Gerard Batten as interim leader, should Mr Bolton lose the vote.
The vote, to take place behind closed doors, will be preceded by speeches by Mr Bolton and a member of the party's national executive committee, which expressed no confidence in him last month, triggering the ballot.
The chairman of the party, Paul Oakden, is to step down from his post after overseeing the vote.