NHS pay deal set to be signed off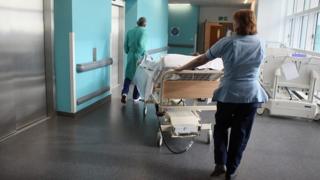 Put your money where your mouth is?
Well, I'm told that when it comes to the NHS, ministers plan to do that with taxpayers' money, with a pay deal for NHS staff in England that could mean more than £4bn over the next three years.
More than a million staff, including nurses, porters and paramedics, could expect average increases of about 6%, after years of a tight spending settlement.
The idea is that the lowest paid will get the biggest hikes, with those on the lowest wages receiving the most significant rises, for example a porter's salary could rise from £15,000 to £19,000.
And contrary to recent suggestions, the unions and the government won't force staff to give up a day's holiday in return for bigger pay rises.
But insiders say that the deal, to be signed off at lunchtime, does include an agreement for staff and the Department of Health to look for ways of reducing rates of sickness in the NHS and changes to automatic pay rises, so called increments.
If the deal is formally announced, as expected, a consultation with staff will follow. But I'm told the biggest health unions, Unison and the Royal College of Nursing, are poised to back the agreement after months of negotiations with multiple unions, the government and NHS Employers.
Potentially, if the 'I's' are dotted and the 'T's crossed, NHS staff could look forward to pay increases as early as July.
The government indicated some time ago that the pay cap, which had been one of the main restrictions that held back public spending, was over.
But this deal could pave the way for expensive, even if overdue, pay deals for other parts of the public sector.
Crucially, sources say the deal will be fully funded by the Treasury, rather than coming out of existing NHS budgets.
The precise detail of what ministers say later will therefore be vital. But the move is likely to add to the growing sense, including in Tory party, that somehow, more cash for the health service needs to be found.