Theresa May must not show weakness to EU says Sammy Wilson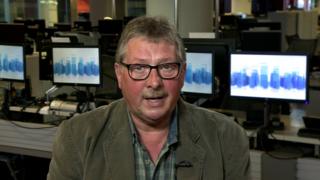 Prime Minister Theresa May must not show any signs of weakness to EU negotiators, the DUP's Sammy Wilson has said.
A group of senior MPs has forced a vote on whether or not the UK should be in some form of a customs union with the EU.
The Sunday Times has reported that Mrs May may have to accept staying in the customs union.
Mr Wilson told the BBC's Sunday Politics that would be a mistake.
"As far as I'm concerned the prime minister's position is very clear in the Lancaster House speech and in other speeches she's made it clear that the United Kingdom will be leaving the single market and the customs union," he said.
"That's the only way of having a clean break with the EU and of experiencing all of the benefits that there would be in leaving the EU."
He added: "She has to be mindful that there's a sizable section of her own party who will not tolerate any deviation from the stated policy."
Mr Wilson said it would be "very unwise for the prime minister to show any sign of weakness" to EU negotiators.
"That's of course what they're trying to do, they're trying to split her away from the rest of her own party," he said.
Former Northern Ireland secretary Shaun Woodward said time is running out for the government to decide on the customs union.
"You tell the last group of people what they wanted to hear and on Thursday she's going to have all these groups all in the same place and one way or another there's going to be a vote," Mr Woodward said.
"At the end of this, what's very clear to me, is Mrs May isn't able to toe the line that she's currently peddling to everyone."