Jeremy Corbyn in crunch meeting with Jewish leaders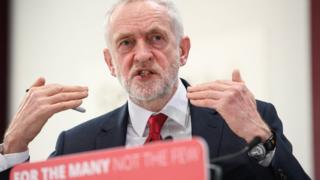 Jeremy Corbyn is in a crunch meeting with Jewish leaders to discuss what steps he has taken to address anti-Semitism in the Labour Party.
The Jewish Leadership Council and Board of Deputies of British Jews say the Labour leader has been slow to act on the recommendations of a 2016 report.
They want disciplinary cases speeded up and Mr Corbyn to use his "personal authority" to drive cultural change.
Mr Corbyn has repeatedly promised to take action against anti-Semitism.
Ahead of the meeting, he said it was an "uncomfortable fact" that a small number of Labour members held anti-Semitic views, and repeated his apology for the "hurt and distress caused".
Writing in the London Evening Standard he said Labour was taking action, with more than 20 members suspended in the past fortnight, adding: "But we have not done enough to get to grips with the problem, and the Jewish community and our Jewish members deserve an apology.
"My party and I are sorry for the hurt and distress caused."
Mr Corbyn has been accused by Jewish groups, and some of his own MPs, who took part in a protest in Parliament Square last month, of not taking the issue seriously enough.
The Board of Deputies of British Jews and the Jewish Leadership Council accepted Mr Corbyn's request for a meeting on the condition that he would discuss their demands for action.
These include:
Mr Corbyn to take "personal responsibility" for the work being undertaken by the party to tackle anti-Semitism and to resolve cases to a "fixed timescale"
A ban on Labour members and MPs sharing platforms "with people who have been suspended or expelled for anti-Semitism"
Improved education about anti-Semitism, including a "clear list of unacceptable language"
An independent ombudsman to oversee efforts to tackle anti-Semitism in Labour, with regular updates to be given to the party and to Jewish community leaders
A commitment from Mr Corbyn to publicly back MPs who were criticised for attending a protest rally against Labour anti-Semitism
Labour's shadow international development secretary Andrew Gwynne said: "I think what we have now got to do - and we have got an issue in the Labour Party - we have got to acknowledge that that problem exists and, for some, that is a challenge.
"For me, the Labour Party was created to fight injustice, to fight against prejudice, to fight against hatred, and that we are where we are really hurts me, so we have got to act."
He told BBC Radio 4's Today programme Mr Corbyn's job as leader of the Labour Party was to help "rebuild confidence in the Jewish community".
Mr Gwynne acknowledged that the party's disciplinary process had taken "far, far too long" in deciding cases such as former London mayor Ken Livingstone.
Mr Livingstone has been suspended since 2016 for claiming Adolf Hitler supported a Jewish homeland in the 1930s.
A succession of Labour MPs demanded action from Mr Corbyn in a Commons debate last week, speaking about the abuse they had suffered and warning anti-Semitism had become much more marked in recent years.
A 2016 report by Labour peer Shami Chakrabarti called for action to address what it said was the "occasionally toxic atmosphere" in the party, but it has yet to be implemented in full.
Holocaust survivor Susan Pollack called for Mr Corbyn to show leadership in tackling anti-Semitism.
"He has to act and he has to show his leadership, and then I think that's the only way we will have respect," she told BBC Radio 4's Today.
Some supporters of Mr Corbyn have warned the issue is being used by his critics to attack him for political reasons.
Jenny Manson, co-chair of the Corbyn-supporting Jewish Voice for Labour, said "none of us in my group have ever experienced any anti-Semitism in the Labour Party" and warned against a "witch hunt".
She acknowledged there was "some anti-Semitism" in Labour, as it was in "all parties" - but there was "no evidence" it had got worse under Mr Corbyn's leadership.
She called for the Chakrabarti report to be implemented but added that the Jewish Leadership Council and the Board of Deputies were not Labour Party organisations and did not represent all Jewish people.
A separate round table event organised by Mr Corbyn on Wednesday has been postponed. Jewish groups had said they would boycott it amid concerns about the inclusion of the pro-Corbyn group Jewish Voice for Labour.
The organisation has accused opponents of using the anti-Semitism claims to damage the Labour leader.