Reality Check: Has the proportion of UK trade with the EU fallen?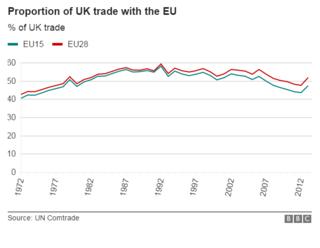 On 24 February, Michael Gove said: "Our share of trade with the European Union has actually diminished during the time that we've been in the EU."
(It's in this interview - about 4mins 30secs in when he's talking about Britain's mojo.)
UK trade figures for 1972 are jolly hard to get hold of - I've had to visit libraries and everything - but with the help of economic historians at the LSE, I can say that the proportion of our trade with the EU has actually increased since 1972, the year before the UK joined.
That is the case looking on the UN Comtrade database at either trade with the 15 countries that were in the EU from 1995, or indeed the 28 countries that are currently members.
Michael Gove was not the only one claiming that UK trade with the EU had fallen.
The wealthy investor and Leave campaigner Jim Mellon told Radio 4's Today programme on 23 February: "Our trade with Europe is now about 43% of our exports. At the time we joined in the seventies it was about 75% with a lesser number of countries."
I really can't find any way of reaching that 75% figure. In 1972, even our trade with the 28 countries that now make up the EU only amounted to 42% of UK exports, according to the UN Comtrade database.
Interestingly, the peak in the importance of EU trade to the UK appears to have been in 1992, the year when the Maastricht Treaty was signed, leading to the creation of the European Union.
Reality Check verdict: The proportion of UK trade done with the EU is not lower now than it was in 1972, before we joined the European Community.
---
Read more: The facts behind claims in the EU debate
---