Reality Check: Does EU migration put pressure on schools?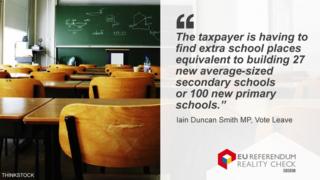 The claim: Immigration is increasing pressure on schools to the extent that the UK needs to find school places equivalent to 27 new secondary schools or 100 new primary schools.
Reality Check verdict: The recent increase in immigration has put additional pressure on school places - cumulatively by even more than this: these figures refer to the impact in just one year. Although it sounds like a big number it is equivalent to less than one pupil for each school in the UK.
Iain Duncan Smith said: "To cope with the kind of pressure that immigration is placing on the schools system the taxpayer is having to find extra school places equivalent to building 27 new average-sized secondary schools or 100 new primary schools."
This claim is based on an estimate made by National Statistician John Pullinger in response to a parliamentary question tabled by Conservative MP William Wragg.
Mr Pullinger used data from the annual International Passenger Survey to estimate the level of immigration of European Economic Area (EEA) nationals aged five to 18. For 2014, the most recent year available, the figure is 25,000 - considerably higher than in previous years.
As Mr Duncan Smith says, that is the equivalent of about 27 average-sized secondary schools or about 100 average primary schools.
In fact, he probably could have gone further because the 25,000 is just one year's worth of immigration. But without more details about the age of the children who arrived, it's difficult to be sure about the total long-term impact.
---
Read more: The facts behind claims in the EU debate
---