Meet BBC Generation 2016 for the EU referendum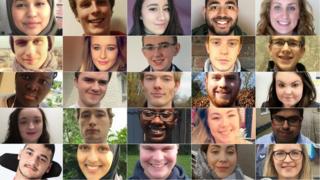 Two hundred and twenty five youngsters have been selected for the BBC Generation 2016 project ahead of the EU referendum on 23 June.
They represent a cross-section of 18 to 25-year-olds living across the UK and in parts of the EU, and will take part in the BBC's coverage of the election.
These young people are from a diverse range of backgrounds and communities.
They'll appear across BBC output, talking about issues that affect them and their opinions on the EU.
Click through to read their profiles, arranged alphabetically by surname.
Generation 2016 EU referendum A-F
Generation 2016 EU referendum G-M
Generation 2016 EU referendum N-Z
Join the conversation with @BBCGen2016 and find out more at bbc.co.uk/generation2016.