Reality Check: How would Brexit affect British students?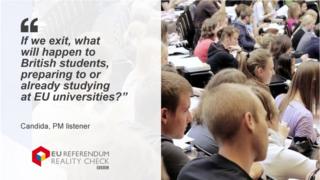 The question: Candida asks BBC Radio 4's PM programme: "If we exit, what will happen to British students preparing to, or already studying at European universities?"
Reality Check verdict: Nothing would change immediately. The UK has at least two years to negotiate a new deal with the EU. The situation in the longer term would depend on what was agreed in that deal, or indeed if a deal were agreed at all.
Any British student can, in principle, study at a university in any EU member state, provided the student fulfils the entry requirements of that institution.
We haven't been able to find concrete figures on how many UK students complete their higher education in another EU country.
However, in 2013-14 more than 15,000 students from the UK took part in the EU-sponsored Erasmus exchange programme.
This allows EU students to study at a university in another EU member state for a period of between three and 12 months.
If the UK voted to leave the EU, the rights of UK students in the EU and EU students in the UK would be subject to negotiation as part of the UK's general exit deal.
Under the procedures for leaving the EU, the UK has up to two years to complete such a deal, although that can be extended if all other EU members agree.
Nothing should change immediately as all the current arrangements would stay in place for at least the first two years of negotiation.
But if there was no deal within two years and no unanimous agreement to extend negotiations beyond the two year period, the current arrangements would no longer be valid.
This article was updated on 31-05-16 to better reflect the fact that the existing situation may only continue for up to two years following a vote to leave.
---
Read more: The facts behind claims in the EU debate
---