Reality Check: Did the OBR back staying in the EU?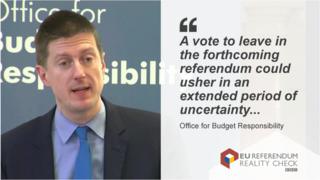 The claim: The independent Office for Budget Responsibility's forecasts around the March Budget supported staying in the European Union.
Reality Check verdict: Saying that a vote to leave the EU would create uncertainty is not controversial and is not proof of support for either side.
Can it really be the case that suggesting a vote to leave the European Union would create uncertainty means you are backing the Remain side?
Some felt that the way Chancellor George Osborne quoted the Office for Budget Responsibility (OBR) in his Budget speech made the independent body seem in favour of staying in the EU.
This was the line he quoted: "Whatever the long-term pros or cons of the UK's membership of the European Union, a vote to leave in the forthcoming referendum could usher in an extended period of uncertainty regarding the precise terms of the UK's future relationship with the EU."
"This could have negative implications for activity via business and consumer confidence and might result in greater volatility in financial and other asset markets."
Is there going to be uncertainty?
In the murky world of economic forecasting, predicting uncertainty is about as safe as it gets. How can anyone disagree with you?
In its forecasts, the OBR assumed that the UK would be staying in the EU, because that's what Parliament told it to do, and it did not calculate what would happen in other scenarios.
And the passage that the Chancellor quoted didn't even say that there would be uncertainty, it said there could be, which is hedging your bets to an extraordinary extent.
After that it says it "could have negative implications" and "might" lead to volatility, which is hedging its bets again.
If the OBR were trying to come out in favour of staying in the EU, it would be expected to do a better job than this.
Note: This post originally appeared on the Reality Check live page on 17 March.
---
Read more: The facts behind claims in the EU debate
---